During the day, Jesus taught the people in the temple area. At night he went out of the city and stayed all night on the Mount of Olives. Every morning all the people got up early to go listen to Jesus at the temple.
— Luke 21:37-38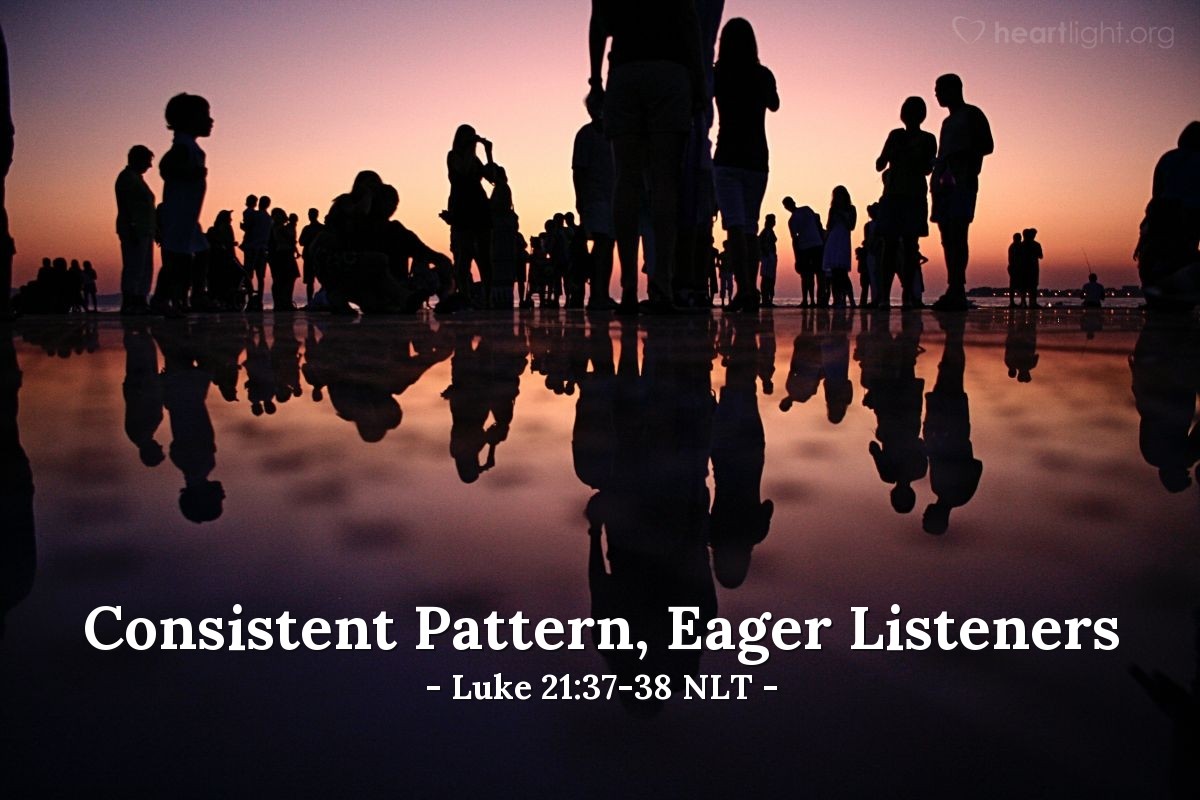 Key Thought
Jesus found eager listeners. His habit during this last week in Jerusalem was predictable. If folks wanted to find him, they could. The Mount of Olives was his place of rest and prayer. The Temple was his location during the day. The people could find him, and they did. They drew near to listen to him. Little did they know they were hearing his last words. But, we know they were his last words before his fretful hours with the disciples and his trip to the Cross. So let's draw near and listen carefully and ask God to help us hear what was on Jesus' heart. Let us give thanks that God has chosen to reveal himself to us in such a human way.
Today's Prayer
Father, how can I thank you for letting me overhear the last words of Jesus as he speaks to the crowds in the Temple, goes to the Mount of Olives, and ultimately goes to the Cross? Help me to not only hear his words, but also to be touched and changed by them. In Jesus' name I pray. Amen.
Today's Verses in Context
"You will see armies all around Jerusalem. Then you will know that the time for the destruction of Jerusalem has come. At that time, the people in Judea should run away to the mountains. The people in Jerusalem must leave quickly. If you are near the city, don't go in! The prophets wrote many things about the time when God will punish his people. The time I am telling you about is the time when all these things must happen. At that time, it will be bad for women that are pregnant or have small babies. Why? Because very bad times will come to this land. God will be angry with these people (the Jews). Some of the people will be killed by soldiers. Other people will be made prisoners and taken to every country. The holy city of Jerusalem will be walked on by non-Jewish people until their time is finished. "Amazing things will happen with the sun, moon, and stars. The people on earth will feel trapped. The oceans will be upset, and the people will not know why. People will become afraid. They will be very worried about what will happen to the world. Everything in the sky will be changed. Then people will see the Son of Man coming on a cloud with power and great glory. When these things begin to happen, don't fear. Look up and be happy! Don't worry. Be happy, because you know that the time when God will free you is near!" Then Jesus told this story: "Look at all the trees. The fig tree is a good example. When it becomes green (grows buds), you know that summer is near. It is the same with these things I told you would happen. When you see all these things happening, then you will know that God's kingdom is coming very soon. "I tell you the truth. All these things will happen while people of this time are still living! The whole world, earth and sky, will be destroyed; but the words I have said will never be destroyed! "Be careful! Don't spend your time drinking and getting drunk. Or don't be too busy with worldly things. If you do that, you will not be able to thinkright. And then the end might come when you are not ready. It will come like a surprise to all people on earth. So be ready all the time. Pray that you will be strong enough to continue safely through all these things that will happen. And pray that you will be able to stand before the Son of Man. " During the day, Jesus taught the people in the temple area. At night he went out of the city and stayed all night on the Mount of Olives. Every morning all the people got up early to go listen to Jesus at the temple.
Luke 21:20-38
Related Scripture Readings
"Salt is a good thing. But if the salt loses its salty taste, then you can't make it salty again. It is worth nothing. You can't even use it for soil or for plant food. People throw it away. "You people that hear me, listen!" Many tax collectors and bad people came to listen to Jesus.
Luke 14:34-15:1
Jesus stood beside Lake Gennesaret (Galilee). Many people pushed to get all around him. They wanted to hear the teachings of God.
Luke 5:1
About eight days after Jesus said these things, he took Peter, James, and John and went up on a mountain to pray. While Jesus was praying, his face began to change. His clothes became shining white. Then two men were talking with Jesus. The men were Moses and Elijah. Moses and Elijah were shining bright too. They were talking with Jesus about his death that would happen in Jerusalem. Peter and the others were asleep. But they woke up and saw the glory of Jesus. They also saw the two men that were standing with Jesus. When Moses and Elijah were leaving, Peter said, "Master, it is good that we are here. We will put three tents here—one for you, one for Moses, and one for Elijah." (Peter did not know what he was saying.) While Peter was saying these things, a cloud came all around them. Peter, James, and John became afraid when the cloud covered them. A voice came from the cloud. The voice said, "This is my Son. He is the One I have chosen. Obey him." When the voice finished, only Jesus was there. Peter, James, and John said nothing. At that time they told no person about what they had seen.
Luke 9:28-36