Friday, August 12, 2016
Dear Father,
Make us diligent athletes who exercise our spiritual bodies, recognizing that while physical exercise has some profit, godliness is of value in every way, because it holds promise for the present life and also for the life to come.
We have set the hope of our hearts upon you, our Father, the living God, the Savior of all men, most especially of us who have put our trust in you. We do believe in you. Please use our hope and faith as a springboard to our diligent efforts for your kingdom.
In the name of Jesus I ask. Amen.
Comments on "The Value of Godliness":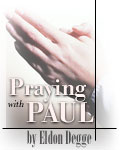 MORE Praying with Paul

Praying With Paul Feed
Enter your email address above to subscribe to the email edition of Praying with Paul. Receive a new prayer inspired by the life-transforming writings of the apostle Paul each morning.
Heartlight wants to thank Eldon Degge and Meridian Publishing for permission to make this available on our website.
Praying with Paul is available in a very attractive book that may be ordered directly from Eldon Degge.