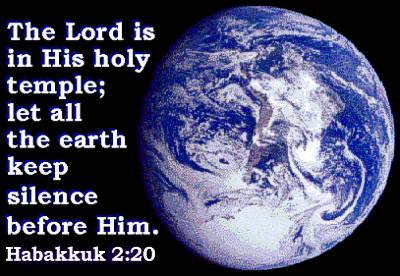 Silence in God's Temple!
Come bow in silence before the majesty of God whose greatness no temple made by human hands can contain
Then Solomon stood before the altar of the LORD in the presence of all the assembly of Israel, and spread out his hands to heaven. He said, "O LORD, God of Israel, there is no God like you in heaven above or on earth beneath, keeping covenant and steadfast love for your servants who walk before you with all their heart. ... But will God indeed dwell on the earth? Even heaven and the highest heaven cannot contain you, much less this house that I have built!" Solomon at the dedication of Israel's first great temple
(1 Kings 8:22-23, 27 NRSV)
It was Solomon who built a house for him. Yet the Most High does not dwell in houses made with human hands; as the prophet says, 'Heaven is my throne, and the earth is my footstool. What kind of house will you build for me, says the Lord, or what is the place of my reast? Did not my hand make all these things?'
(Acts 7:47-50 NRSV)
Worship begins when we realize that we as mere mortal can make no fit place to worship God, who is bigger than we can think or imagine. All that is left for us to do is to offer Him ourselves as his place of worship. (See Romans 12:1; 1 Corinthians 6:19-20)
Make This Image Into a HeartCard!