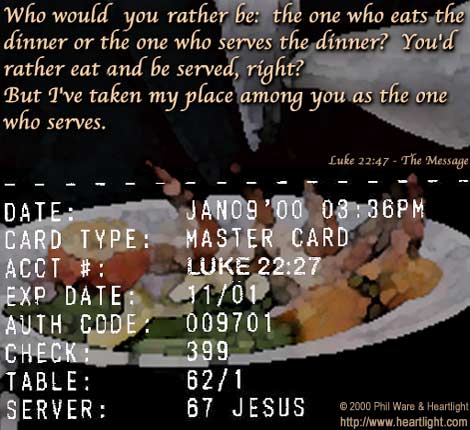 Make This Image Into a HeartCard!
A friend brought me the receipt from a recent family visit to a nearby restaraunt. Imagine their surprise when they found out their waiter was named Jesus! He thought it might be a good reminder for us to use at Heartlight. A copy of the unretouched receipt (except for the MasterCard number) furnishes the foreground for this important reminder of exactly where Jesus would be in our world today.


HEARTLIGHT® Magazine is a ministry of loving Christians and the Westover Hills church of Christ.
Edited by Phil Ware and Paul Lee.
Copyright © 1999, Paul Lee.
May be reprinted and reused for non-commercial purposes only if copyright credits are appropriately displayed.
HEARTLIGHT and the flared heart design are service marks of Heartlight, Inc.