Imagine a busy street in a bustling city. People are milling about, making purchases, chasing after their children, avoiding traffic. Scattered around them, in doorsteps and on street corners, are the homeless, the poor, and the disabled. One of these is a woman so sick that she lacks the strength to kick away the rats biting at her feet. In spite of her pain and misery, no one seems to notice her.
Then a tiny woman stops.
"Can I help you?" she asks. "Can you answer me?"
The sick woman merely moans in response. So, in spite of her small frame, the tiny woman named Agnes picks up the poor lady, carries her to a nearby hospital, and asks for help.
"This woman is dying," is the sharp reply. "It's obvious she has no money, and besides, from the looks of her she's got a highly contagious disease. We aren't touching her. Now get out!"
But Agnes is adamant: "I'm not leaving until someone helps this woman! She persists stubbornly in her demand until, finally, the hospital staff relents. They admit the sick woman, and Agnes leaves.
Over the days that follow, Agnes cannot rid her mind of this incident. She continues to see poor and dying people all around her in the streets of the city — people no one else seems to see. "These people need a place to die in peace," she thinks to herself, "a place without gnawing rats and gawking eyes. A place that is clean, quiet, and where someone cares. A place where they can know the love of Jesus."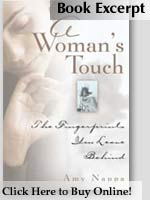 Agnes approaches the city officials and presents her case. "If you will donate a place, I will do the rest," she says. They agree and allow her to use an abandoned building next to a local temple.
Agnes names the building Place of the Pure Heart and gathers other workers to help her. They roam the streets of the city looking for dying people to bring to their house of rest. As if this challenge wasn't enough for Agnes and her friends, trouble erupts in the neighborhood. The people who belong to the temple next door are angry.
"She's not of our religion!" they fume. "She's going to convert the people she's helping to her own religion. We've got to stop her!"
Some of them pelt the workers with stones as they bring in the dying. Others go to the city officials with their righteous concerns, and a police chief is assigned to the case.
When the chief visits Place of the Pure Heart, he sees things that both disgust him and touch his heart. Agnes is caring for a woman with maggots crawling out of open sores, smiling at her and speaking words of love. The other workers are caring for people in similar conditions.
The police chief returns to the angry temple worshipers. "I'll be glad to kick this woman and her friends out of the building," he tells them. "Only before I do, you must get your sisters and mothers to take over the work these women are already doing."
The crowd quietly disperses, dropping their complaint. They keep on with the rock throwing, however, and continue to shout threats at Agnes and her friends. Time passes, and the tensions continue. Then one day a different sort of crowd gathers outside the Place of the Pure Heart. Agnes goes to investigate.
"He's got cholera!" someone cries out. "Don't go near him! Don't touch him!"
The man before them is drowning in his own vomit, yet no one will help him — no one except Agnes, of course. She takes the man inside, washes him, and puts him into a clean bed, where he soon dies.
This story is true. Now let me fill you in on some of the details. The busy streets were in Calcutta, India. The man with cholera who was given a clean place to die was a respected Hindu priest who belonged to the temple next-door. (He might even have been one of those who'd been tormenting Agnes and her friends.) And because of Agnes's loving touches in his last moments of life, the other Hindus stopped harassing the Place of the Poor Heart.
And Agnes? You and I know her better by the name she was given when she became a nun, Teresa; or as she was named by the Pope's orders when she began her own convent, Mother Teresa.8
It's amazing to consider that Mother Teresa gained worldwide recognition by simply taking the words of Jesus to heart and obeying them. She didn't seek fame and fortune. She didn't ask everyone to applaud her and give her glory. She simply obeyed Jesus by feeding the poor and caring for the sick. For this she won the Nobel Peace Prize. Her response to the honor? "I am unworthy."9 She turned all the attention and gifts that came with the great prize back to the poor and dying, inspiring others to serve beside her.
Mother Teresa touched the bodies of those no one else would. She could not physically heal them. She couldn't offer them expensive medicines and world-class doctors. She simply offered the love of Jesus, and as a result, her touch reverberated around the world.
Take time to consider the exhortations of Mother Teresa to us:
"When we touch the sick and needy, we touch the suffering body of Christ."

"Someone once told me that not even for a million dollars would they touch a leper. I responded: 'Neither would I. If it were a case of money, I would not even do it for two million. On the other hand, I do it gladly for love of God.'"

"Do you know that right where you live, there are many people in the streets? Hundreds come every day to our places, just for a little food, a little human warmth, a smile, a handshake-nothing more. Do you know that?"

"Since we cannot see Christ, we cannot express our love to Him. But we do see our neighbor, and we can do for him what we would do for Christ if He were visible. Let us be open to God, so that He can use us. Let us put love into action. Let us begin with our family, with our closest neighbors. It is difficult, but that is where our work begins. We are collaborators with Christ."

Mother Teresa touched the bodies of those no one else would.
Now reflect on her words of prayer to Jesus:
"Dearest Lord ... Though you hide yourself behind the unattractive disguise of the irritable, the exacting, the unreasonable, may I still recognize you, and say: "Jesus, my patient, how sweet it is to serve you."
Mother Teresa saw the face of Jesus in each person she touched. Do you?
Father of Mercy, let me see the beauty of your presence behind the pain of this world. Open my eyes to see the face of Jesus in those in need.
The King will reply, "I tell you the truth, whatever you did for one of the least of these brothers of mine, you did for me." (Matthew 25:40)
---
Resources for this Article:
Linda Carlson Johnson, Mother Teresa: Protector of the Sick (Blackbirch Press, 1991).
Jose Luis Gonzalez-Balado, compiler, Mother Teresa: In My Own Words (Ligouri Publications, 1996)
Jose Luis Gonzalez-Balado, editor, Loving Jesus (Servant Publications, 1991)
Becky Benenate and Joseph Durepos, editors, No Greater Love (New World Library, 1997)
Malcolm Muggeridge, Something Beautiful for God: Mother Teresa of Calcutta (Harper, 1986)