---
/_-large.jpg" width=200 height=154 alt="" border=0 align=left hspace=14 vspace=10>
by Paul Lee

---
30 Oct 2002 - 7:00PM - Jinotega, Nicaragua
The road to Jinotega was not long, it just seemed that way. Weaving in and out to avoid the potholes probably added a dozen kilometers to the trip, so perhaps that accounts for it.
Rising from the heat and humidity of Managua (if you've been to Houston, you've pretty much experienced Managua's weather), we climbed quickly into beautiful mountains cloaked in green and wreathed in clouds. Coffee plants and banana trees climbed impossible slopes, and bright flowers exploded from lush plants in red, yellow, orange and purple. Cattle, horses, and pigs grazed along the side of the road wherever they found a patch of grass.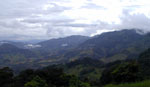 Winding back and forth, we passed huts and houses, some made just of black plastic trash bags, others with sticks or boards or metal sheets. Others were built of concrete blocks, a few lucky ones had complete roofs. Children peeked out of their humble houses, with the same eyes of wonder that I have seen in the kids back home. Their parents were working hard to provide them with what they could, and each house, no matter how poor, was obviously a home. I couldn't help but think of those kids, and their future... what would they do here?

We pulled into Jinotega, la Ciudad de las Brumas (City of the Mists), at about 4:00PM. The name is fitting. Jinotega lies in a small valley ringed by higher mountains, and swathed in clouds and mist. Our destination was a school in the heart of the city.

I couldn't help but think of those kids, and their future...

Benny Baker and Misión Para Cristo have for the last few years been working with the school administration to help the children of Jinotega attend school. In Nicaragua, 800,000 children cannot attend school, because they lack the funds to do so. Misión Para Cristo's "Just One More" program seeks to help students, as many as possible, to attend school through donations of just $12.50/month. That provides shoes, uniforms, backpacks, school fees and even medical attention for the kids. Additionally, "Just One More" has been able to help with a feeding program, computer lab, and even family support for the students. And most importantly, the program is giving Misión Para Cristo the opportunity to bring Bibles and spiritual instruction into the school.

Those are the facts of the program, but the facts only tell you a small part of the story. As we arrived, the children were gathered with their parents in one of the rooms of the small school. As the program progressed, I studied the faces of the children — some shy, some bold and brash, some bored, most beaming with smiles. It was a joy to hear them sing songs of praise.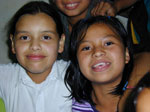 After the program, many of the kids gathered to one side for a picture. I took the photo, and then they started to disperse. I took some more photos, and then showed them that my digital camera could display the picture right after I took it. Their eyes widened, they ringed around me, and I had just made about a hundred friends. I took their pictures, I took them again, they pulled on my sleeves, they asked "por favor," and after each picture, I had to show them the image on the display. They were overjoyed! Many came back again and again, wanting me to take their picture again, just for the sheer joy of it. Finally I raised my hands,"No more! No mas!" Reluctantly it ended. Most of the reluctance was on my part; I hated for it to end.
To see these kids, so far from my home, and yet so familiar, so beautiful and full of joy, it impressed on me not how different we are, but how alike we are. I don't know why it was in God's plan for me to be born in California rather than in a shack in Nicaragua. I don't understand why I have so much, while others have so little. And while I may not understand all this, I do know that I'm changing little by little. These kids today were a part of that. I thank God for their smiles, for their joy, and I hope that in some small way I can help them.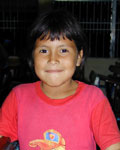 I pray that you will consider helping them, too. It only costs $12.50/month to help one child with everything they need to get an education in Jinotega. I'm personally supporting two kids, and I'm asking you to join me. Visit the Misión Para Cristo web site to find out how to join this effort.
When we made our way to the hotel, I looked up a word I couldn't remember in Spanish while at the school. I wanted to remind the kids to "smile," but couldn't recall how to say it. Looking in the dictionary, smile translates to "sonrisa" — which sounds to me an awful lot like "sunrise." That's beautiful. As I enjoyed the hundreds of sonrisas from the children this afternoon, I felt a sunrise of my own. God's mercy and his love and his care are becoming real to me in a new way... very like a sunrise on a bright, beautiful new morning.
© 2002, Paul Lee.

Title: ""
Author: Paul Lee
Publication Date: October 31, 2002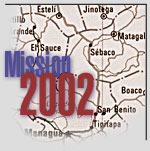 Heartlight only exists because of
your support!
Click above to visit a
sponsor
, or
donate
to join us in our ministry.