---
/_.jpg" width=120 height=83 alt="" border=0 align=left hspace=5>
by Phil Ware

---



"I do!"

I really meant it when I said it so long ago. I just didn't have a clue what all it meant. All that "for better or for worse" stuff made sense in my head and I really meant it at the time. So much has passed, so much has happened. I had no clue the depth of that commitment. No one at the front end of marriage really does.

"I do!"

They come to me to prepare for their wedding. We call it premarital counseling, but I have no illusions about the amount of counseling they absorb. It's important. It's crucial. But, it's a bit like a conversation on an airplane at take off: there's a lot of excitement and noise, but you are never sure how much people hear and remember in the fear and flurry of going somewhere special.

"I do!"

"Love so amazing, so divine, demands my life, my soul, my all."

How do you explain to someone on that side of life what it means to share your life, your dreams, your body, your vulnerabilities, your strengths, your fears, your skills, your failures, your faith, your everything? The only thing comparable is our love to Jesus. As we pledge to Him in the old hymn, we also pledge to each other: "Love so amazing, so divine, demands my life, my soul, my all."

"I do!"

There is no greater gift a person can give than to keep that pledge through all the ups and downs, all the joys and sorrows, all the plans and surprises of marriage. Bodies change. Perspectives change. Health can change. Locations change. Feelings will change. Jesus said the greatest gift a friend could give was to lay down his life for his friend. (John 15:13) Marriage is doing that over and over again. It is submitting ones will to the needs of another for the good of the other. (Ephesians 5:21) And it is not doing it once on a grand stage where all can see and shout, "Hero!" It is doing it countless times where few see or know.

"I do!"

I said it 25 years ago. I say it again today, hoping for another 25. Knowing now how much more it means and understanding so much more how precious a gift I have received. Neither of us is perfect. That's part of the reason for the promise. But, I believe we are better, wiser, stronger, and more in love than when we first said it.

"I do!"
Title: ""
Author: Phil Ware
Publication Date: May 27, 2002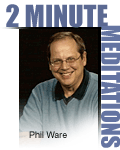 Many more articles
like this are in the
ARTICLE ARCHIVE

_.html" onmouseover="window.status='View a simpler page format that works well with printers.'; return true" onmouseout="window.status=''; return true" title="Printer-friendly Version">

Print this Article

_.html" target="note" onmouseover="window.status='Send this article to a friend.'; return true" onmouseout="window.status=''; return true" onclick="OpenNoteWindow('');" title="Send this article to a friend.">

Send it to a Friend



Discuss