---
/_.jpg" width=120 height=82 alt="" border=0 align=left hspace=5>
by Phil Ware

---
The glory of the LORD will be revealed, and all people will see it together. The LORD has spoken! (Isaiah 40:5 NLT)
The commercial brought it all back to me. Backyard scenes pop out of the dark corners of my forgotten memory; I'm throwing the football to myself, pretending I'm scoring the winning touchdown of an important game. I catch another glimpse of myself as gangly a pre-teen; I'm throwing the ball as high in the air as I can, then making a diving catch to save a world series victory for my team. A distant image flashes by, and I see myself on the putting green sinking putt after putt winning all sorts of imaginary tourneys. I haven't seen these memories in 30 or 35 years, but suddenly, they are as real as yesterday. For a moment, I bask in the imagined glory.
Part of my adult brain wants to write off those daydreams of athletic glory as naïve actions of a kid who needed to feel he could do something important someday. They're a nice trip down Nostalgia Lane, but not something I'm going to do any longer now that I'm a "mature" adult. Reality has set in. I'm no game-winning receiver. I'm definitely no speedy, sure-handed fielder. My days as an "ice-water in my veins" golfer were over before they started. I'm a grown man with responsibilities to complete, a family to lead, a job to do, and devotionals to write. I feel kinda like the Trix Rabbit as part of my adult brain says, "Silly Phillip, dreams of glory are for kids."
Thank goodness for the Holy Spirit! Suddenly, several scriptures fire in my brain:
And when Christ, who is your real life, is revealed to the whole world, you will share in all his glory. ... We look forward to that wonderful event when the glory of our great God and Savior, Jesus Christ, will be revealed. ... It will bring you much praise and glory and honor on the day when Jesus Christ is revealed to the whole world. (Colossians 3:4; Titus 2:13; 1 Peter 1:7 NLT)
"What we suffer now is nothing compared to the glory he will give us later."

Life as an adult is hard. You have to be responsible. You have a job to do. You can't mess up because so many people are depending upon you. But sometimes you do mess up. Sometimes you do blow it. Sometimes you do get tired and want to quit. Sometimes you are tempted.

Sometimes... you do need to be able to daydream, and for just an instant, you do need to believe that you are actually going to be a part of something really important, something glorious, because your life really matters.

When's the last time you thought wistfully about what it is going to be like to share in the glory of Jesus when he comes with his angels? When's the last daydream you had of meeting Jesus at his return and seeing all those you love who have gone before you? When's the last time you let the Spirit encourage you with the anticipation of seeing God face to face and experience his touch on your cheek as he wipes every tear from your eye? Well, that's too long!

Dreams of glory and visualizations of sharing in great moments must not be relegated to our memories of childhood. God wants all of us as his children to dream of our day of sharing in his glory. In fact, some days, that's all that will get us through. How do I know? Check out these words written for hard times:
And since we are his children, we will share his treasures — for everything God gives to his Son, Christ, is ours, too. But if we are to share his glory, we must also share his suffering. Yet what we suffer now is nothing compared to the glory he will give us later. (Romans 8:17-18 NLT)

God will provide rest for you who are being persecuted and also for us when the Lord Jesus appears from heaven. ...when he comes to receive glory and praise from his holy people. And you will be among those praising him on that day, for you believed what we testified about him. (2 Thessalonians 1:7-10 NLT)
So if you can't reach me on my mobile phone of if I take awhile to return your emails, let me tell you where to find me. I will be in my backyard, staring up at the clouds, dreaming of my part in a great day of glory that is coming. You see, glory is going to dawn and Jesus is going to return in the clouds on which I dream.
Care to join me?
Title: ""
Author: Phil Ware
Publication Date: May 13, 2002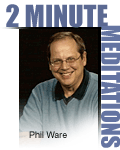 Many more articles
like this are in the
ARTICLE ARCHIVE

_.html" onmouseover="window.status='View a simpler page format that works well with printers.'; return true" onmouseout="window.status=''; return true" title="Printer-friendly Version">

Print this Article

_.html" target="note" onmouseover="window.status='Send this article to a friend.'; return true" onmouseout="window.status=''; return true" onclick="OpenNoteWindow('');" title="Send this article to a friend.">

Send it to a Friend



Discuss