---
/_.jpg" width=82 height=120 alt="" border=0 align=left hspace=5>
by Larry Bridgesmith

---



An increased awareness of the urgency and cost of discipleship may be coming into view. Whether through the lens of 9/11, or criticism leveled at those who take a stand for Christ in the face of tradition, political correctness, or mere comfort, many Christians understand that passive faith is no faith at all.

Perhaps no one best illustrates this truth today better than Samir Ibrahim Salman. A native of Bethlehem, a Palestinian, and a Christian, Samir has held an extremely visible position of service. Since 1967, Samir has been the caretaker and ringer of the bells in the Church of the Nativity. Revered by Christians, Arabs, and Jews, this holy site in Bethlehem is also believed by many to be the very site of the birth of Jesus Christ.

Samir took his role as the bell ringer extremely seriously. Every day since 1967, he rose early and walked the 100 yards from his home to the church in order to waken Bethlehem to the sound of church bells from the Church of the Nativity. He would also ring the bells for special sacred occasions such as weddings and funerals. Samir was faithful to his task and carried out his responsibility daily. Everyday, Samir faithfully would get up and ring the bells.

Until Thursday, April 4, 2002.

Samir had a job to do and war would not dissuade him from doing it.

He woke as usual, then headed across the plaza despite knowing that the Church of the Nativity had become the new ground zero. Israeli soldiers surrounded the church which was being used by Palestinian gunmen as sanctuary. Allegedly, the monks and nuns in the church were being held hostage with their lives in imminent danger. But, Samir had a job to do and war would not dissuade him from doing it.

Midway between home and church, Samir was shot in the chest by a sniper. Neither Israelis nor Palestinians took responsibility for the shooting. Samir lay in the road for four hours before medical help could attend to him. It was too late. He died long before medical aid arrived. He was unarmed and a danger to no one. He was merely doing his job. After 35 years, he was not going to see a day in Bethlehem arrive missing the sound of the bells. Samir's faithful service cost him his life.

God give us the courage to just ring the bells. Without regard to war, snipers, or those who would silence the sound of hope. May we just ring the bells of Christ's good news. May we have the confidence in the face of fear demonstrated by Samir Ibrahim Salman. May the war that rages around us not dissuade us from our discipleship. God grant us the strength to just ring the bells.
I consider everything a loss compared to the surpassing greatness of knowing Christ Jesus my Lord, for whose sake I have lost all things. (Philippians 3:8)
© 2002, Larry Bridgesmith. Used by permission.

Title: ""
Author: Larry Bridgesmith
Publication Date: April 17, 2002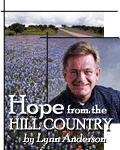 More articles like
this are in the
ARTICLE ARCHIVE

_.html" onmouseover="window.status='View a simpler page format that works well with printers.'; return true" onmouseout="window.status=''; return true" title="Printer-friendly Version">

Print this Article

_.html" target="note" onmouseover="window.status='Send this article to a friend.'; return true" onmouseout="window.status=''; return true" onclick="OpenNoteWindow('');" title="Send this article to a friend.">

Send it to a Friend



Discuss