---
/_.jpg" width=120 height=74 alt="" border=0 align=left hspace=5>
by Phil Ware

---
I consider that the sufferings of this present time are not worth comparing with the glory that is to be revealed to us. For the creation waits with eager longing for the revealing of the sons of God; for the creation was subjected to futility, not of its own will but by the will of him who subjected it in hope; because the creation itself will be set free from its bondage to decay and obtain the glorious liberty of the children of God. We know that the whole creation has been groaning in travail together until now; and not only the creation, but we ourselves, who have the first fruits of the Spirit, groan inwardly as we wait for adoption as sons, the redemption of our bodies. For in this hope we were saved. Now hope that is seen is not hope. For who hopes for what he sees? But if we hope for what we do not see, we wait for it with patience. (Romans 8:18-25 RSV)
All too often, I live a harried life. In the wake of my daily activities, I often leave messy piles of papers I have processed, books I've used, and stacks of folders I think I will need somewhere down the line. To put it in cornbread English, I'm a messy packrat who leaves a clean and orderly space in chaos.

Every once-in-a-while, the chaos spreads outside the boundaries of my tolerance. Something clicks inside my head and I begin working to reclaim order to my world by throwing away what I won't use, filing what I want to keep, and shelving my books in their proper place. When I'm done, when order is won out of chaos, there is a deep-down feeling of goodness, as if I've done something righteous. It's not so much that "cleanliness is next to godliness," but that bringing order out of chaos is something that aligns my heart with God.

After reading Genesis 1 again recently, the truth of the Holy Spirit broke through my hard head and I understood why my feelings about "order out of chaos" were true. God is the great destroyer of chaos. He doesn't destroy chaos with obliteration, but with creativity, order, and purpose. What was formless, void, and dark becomes beautifully structured and purposeful. God speaks and creation happens. God speaks and order is won. God speaks and light and life burst into existence. God speaks and each creature and each created space has its place and purpose. God speaks and nothingness is transformed to good. God's order is seen in the process as well as the final result.*

Chaos is destroyed by the by spoken and creative Word of God. Beauty, order, and blessing are his work and this blessing is put in place before he brings the human on the scene. God's incredible work is his great and gracious gift to his crowning jewel of creation, the object of his affection, the human.

What importance, what relevance is all of this to us today?

Sin is a hell-sent chaos intended to damage our hearts, disrupt our lives, and destroy our faith.

You and I face far greater issues of chaos than messy rooms, misplaced books, stacks of unfilled folders, and irrelevant piles of paper. Sin, sometimes our own but often times the sin of others, rips open the seams of our lives and chaos rushes. This, however, is not a benign disorder, but a malevolent chaos. This is a hell-sent chaos intended to damage our hearts, disrupt our lives, and destroy our faith. While all creation suffers this disorder and decay (Romans 8:18-25), some of this chaos is specific and personal, hell-intended just for us (Genesis 4:6-7). What do we do in such moments of overwhelming formlessness, void, and darkness? Where do we find hope in the fury of hell's chaos?

We reclaim the God of Genesis 1. God is not the God of chaos, but of creative and redeeming order (cf. 1 Corinthians 14:33). His salvation brings us a whole new world and makes us a new creation (2 Corinthians 5:17; Colossians 3:10). We are created in Christ as God's workmanship with a purpose (Ephesians 2:10). He places his Spirit within us, to give us abilities to use for his glory and his people (1 Peter 4:10-11); to empower us to live a life of holy productivity freed from the power sin and decay (Romans 8:1-14; Galatians 5:22-23); to help us when we are weak and need help (Romans 8:26-27); and to share in his glory as his children, forever (Romans 8:15-25, 31-39). God is daily at work in our lives, inspiring us to his will (Philippians 2:13), conforming us to Jesus (2 Corinthians 3:18), and working for our good (Romans 8:28).

Yes, it is true in our bent world that chaos will have its moments of dark and disordering victory. However, these moments will pass and God's creative work will restore order, purpose, and beauty to our lives. And, if you look with faith out on the horizon of history, you will see a greater day when chaos is completely destroyed and our lives are absorbed into the glorious liberty of the children of God in a heavenly world without chaos and the pain it brings!
---
* Notice the order of creation:

| | |
| --- | --- |
| Day 1 — Separate Light and Darkness | Day 4 — Great Lights of Day and the Dark |
| Day 2 — Separate Sky and Seas | Day 5 — Sky and Sea Dwellers |
| Day 3 — Separate Land and Waters | Day 6 — Land Dwellers |

Each day's work is the result of God's spoken and creative Word. At the end of each day, God declares his order work of creation "good" and after the creation of the human, it is "very good."
Title: ""
Author: Phil Ware
Publication Date: April 8, 2002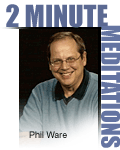 Many more articles
like this are in the
ARTICLE ARCHIVE

_.html" onmouseover="window.status='View a simpler page format that works well with printers.'; return true" onmouseout="window.status=''; return true" title="Printer-friendly Version">

Print this Article

_.html" target="note" onmouseover="window.status='Send this article to a friend.'; return true" onmouseout="window.status=''; return true" onclick="OpenNoteWindow('');" title="Send this article to a friend.">

Send it to a Friend



Discuss