---
/_.jpg" width=89 height=120 alt="" border=0 align=left hspace=5>
by Joe Beam

---



The sad truth is that the vast majority of marriages — even Christian marriages — have failed to achieve ONEness. Too many husbands and wives live in marriages that range from empty and unfulfilling to miserable, often wondering how in the world they got into their marriages and wishing for a way out. We at FDI continually hear a statistic that our work with thousands of couples leads us to believe is accurate. It says that only one in four marriages is happy.

One in four.*

Scary, isn't it?

If true, this means that 75 percent of married couples exist in a marriage without the intimacy God intended. Unhappy and unfulfilled, they remain in their marriages for one reason or another — religious values, children, economic reasons, lack of alternatives, and the like. Some accept their sad state, believing that nothing can be done, and try to find other things in their lives to fulfill them. Others cannot accept such an empty union and grow angrier by the day, fighting and quarreling until the marriage explodes into fragments that even professional marriage therapists cannot put back together. Still others try to ignore the need, pretending that things are okay, until one day one of the partners finds that he or she has fallen in love with some one new.

Maybe your marriage is one of those unfulfilled ones. Is it possible? Might you be unfulfilled and unhappy in your marriage? If you have the accompanying workbook, Becoming ONE: Exercises in Intimacy, the first exercise in chapter 1 should help you get an idea of how satisfied you really are. We suggest you complete it and see. Why? Because if you aren't happy in your marriage, then you — like the rest of those in the 75 percent category — are a perfect target for satanic attack. No Christian should be naive enough to think that Satan's evil ones would bypass such a great opportunity to sow their seeds of discord, discontent, and deceit.** If you've settled into lethargy about your marriage, bad times are coming.

If you've settled into lethargy about your marriage, bad times are coming.

Don't think that everything will be okay and that you should just accept and endure a marriage without intimacy. Incomplete marriages — marriages that have not achieved ONEness — may seem acceptable on the surface, but the people who exist in them continually find themselves confronted with temptations or failings that wouldn't exist — or at least wouldn't have the same level of power — if ONEness existed in their marriages. Their susceptibilities to these pitfalls aren't because of some inward evil or lack of moral fiber, though they may end up committing moral evil. Their struggles with sexual temptations or unacceptable emotional involvements or excessive striving for success, fame, and recognition or a host of other character weaknesses come as an indirect result of their unfulfilled need for complete intimacy.

Remember Sam? He didn't walk into that strip bar because of sexual addiction or even overpowering sexual temptation. Sam didn't know it, but what drove him into that bar was his craving for intimacy — sexually, emotionally, and spiritually. Because he didn't understand the true inner need that propelled him, all he keyed on was his lack of sexual fulfillment. Too godly to openly seek out a paramour, he instead paid to watch provocative women. In his emotionally confused state, he was unaware that once he crossed that barrier, he opened himself up to whatever impulse seized him next.

His unconscious search for intimacy led him into an act of degrading sin.

Don't be so spiritually and emotionally naive as to think that a similar delusional process couldn't happen to you or your spouse.
---
* FDI is Family Dynamics, Joe Beam's organization for working with couples, training facilitators, and providing resources to help marriages grow stronger and couples develop deeper intimacy. You may contact FDI at 1 (800) 650-9995 or by going to the their website http://www.familydynamics.net
** For an in-depth study of the spiritual warfare waged on earth today between the forces of evil and the forces of God, read Joe Beam, Seeing the Unseen (Howard Publishing, 1994).

By Joe Beam, Chairman and Founder, Family Dynamics Institute. From his book, "Becoming One" © 1999, Howard Publishing Company. Used by permission. This article cannot be reprinted in another publication without written permission of the publisher. Click here to buy this title online!

Title: ""
Author: Joe Beam
Publication Date: February 15, 2002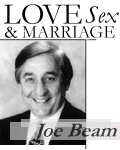 Many more articles
like this are in the
ARTICLE ARCHIVE

_.html" onmouseover="window.status='View a simpler page format that works well with printers.'; return true" onmouseout="window.status=''; return true" title="Printer-friendly Version">

Print this Article

_.html" target="note" onmouseover="window.status='Send this article to a friend.'; return true" onmouseout="window.status=''; return true" onclick="OpenNoteWindow('');" title="Send this article to a friend.">

Send it to a Friend



Discuss