---
/_.jpg" width=120 height=80 alt="" border=0 align=left hspace=5>
by Phil Ware

---
Don't just pretend that you love others. Really love them. Hate what is wrong. Stand on the side of the good. Love each other with genuine affection, and take delight in honoring each other. Never be lazy in your work, but serve the Lord enthusiastically. (Romans 12:9-11 NLT)
I hate typos. Unfortunately, they are part of my fallen world. In any kind of printing and publishing enterprise, especially one with regular and demanding deadlines, they are an unwanted reality. Most of the time, typos are just irritating. Occasionally they are embarrassing. Sometimes, however, they are touches of grace and point to a deeper truth.
In a recent Heartlight article entitled "Love — It's a Compound We Can See," one of our readers found a typo she loved. (I've highlighted the typo because a lot of people miss it the first time they read it!)
Subject: Typo

"Another couple that cares deeply, and shows that care especially for Christian marriages, is about to celebrate their 60th weeding anniversary. They have weathered the storms of some tough times..."

So, if we keep weeding in our marriages, we might just make it to a 60th wedding anniversary. I loved it!!!!!

Bobbie
Vienna, WV
While most of us would be in serious trouble if we called our wedding anniversary a weeding anniversary, Bobbie's point is well taken. In every relationship, there are weeds that take root and start to grow. So often through neglect or just plain laziness, we let them spread. Sooner or later, a real stress comes along and we find out that all those weeds have choked out what was once a vital and beautiful relationship.

How do we get rid of the weeds?

So how do we get rid of the weeds? Several things immediately come to mind.

Pull the weeds out now!
Look at your life with your love and ask the Lord to help you find those areas that need to be improved, deepened, enriched, and removed. Ask them what areas of change or improvement in your life would most bless them and deepen your relationship with them (And don't get your feelings hurt, you asked for it!). Let them know you are trying to do a little "weeding" and want to get rid of bad habits or hurtful and unproductive actions.

Make good areas healthy!
Getting rid of weeds in a yard is much more than just pulling them up. The best weed preventative is having a healthy yard. The thriving grass doesn't give weeds room to grow and chokes them out. So often marriage weaken little by little because attention is not paid to the strengths in the relationship or the "little things" that make love thrive are neglected or forgotten. Make sure and do "the good stuff" and the "little things" that bless your spouse and bring joy, fun, and moments of grace into your daily lives.

Most marriages could use a weeding anniversary — out with the old and a re-commitment to the good. So maybe this typo wasn't a problem, just a reminder. But in the spirit of weeding, we corrected the typo anyway! How about you, got any weeding you need to do?
Title: ""
Author: Phil Ware
Publication Date: January 14, 2002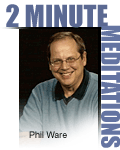 Many more articles
like this are in the
ARTICLE ARCHIVE

_.html" onmouseover="window.status='View a simpler page format that works well with printers.'; return true" onmouseout="window.status=''; return true" title="Printer-friendly Version">

Print this Article

_.html" target="note" onmouseover="window.status='Send this article to a friend.'; return true" onmouseout="window.status=''; return true" onclick="OpenNoteWindow('');" title="Send this article to a friend.">

Send it to a Friend



Discuss