---
/_.jpg" width=110 height=110 alt="" border=0 align=left hspace=5>
by Phil Ware

---
Our church has been blessed with a large number of adopted children over our thirty-year history. Some of these children were born in Texas or the southwestern US. However, in recent years, we've had children from China, Korea, Russia, Ukraine, and other nations join our family through adoption. The expense, the distance involved, the uncertainty of the process, and the wonderful joy of these babies and children joining us at church has been exciting, excruciating, and exhilarating. This experience with adopted children has also reminded us of our own great truth: we are all God's children by adoption. Jesus paid a huge price, covered an enormous distance, and faced a world of uncertainty and hardship to bring us into God's family.
This time of year, we often think about Jesus' journey — a journey from the right hand of God into the womb of Mary, from the adulation of the angels to the murderous plans of Herod, and from the portals of glory to a bed of straw in a wooden box licked clean by feeding livestock. No matter how you look at it, the incarnation of God in human flesh, Jesus coming to us as Immanuel, is a costly miracle and a sacrificial gift given to us by the One to whom we owe everything. Listen to the dialogue of these two powerful Scriptures as they proclaim both sides of this truth.
Christ is the visible image of the invisible God. He existed before God made anything at all and is supreme over all creation. Christ is the one through whom God created everything in heaven and earth. He made the things we can see and the things we can't see — kings, kingdoms, rulers, and authorities. Everything has been created through him and for him. He existed before everything else began, and he holds all creation together. (Colossians 1:15-17 NLT)

Your attitude should be the same that Christ Jesus had. Though he was God, he did not demand and cling to his rights as God. He made himself nothing; F5 he took the humble position of a slave and appeared in human form. And in human form he obediently humbled himself even further by dying a criminal's death on a cross. (Philippians 2:5-8 NLT)
Jesus comes to earth to give the Father a gift.

Yet as much as we view the coming of Jesus as God's greatest gift to us, God views the incarnation from a different perspective. Jesus comes to earth to give the Father a gift. This story is for us, but it is not about us. It is about him. It is about our Father's love and grace. It's about our Father wanting us back so badly that he sent his Son to buy us back. Jesus came to give us as a gift back to God. He came to redeem us, to reclaim us, and to bring us home to his Father.
"Christ also suffered when he died for our sins once for all time. He never sinned, but he died for sinners that he might bring us safely home to God...." (1 Peter 3:18 NLT)
To put it in cornbread English, we are Jesus' gift to the Father. We are the real Christmas gift. Jesus traveled the long distance, he paid the high adoption price, and he risked everything so that the Father could have us back as his holy children. So as we sing "Joy to the world, the Lord is come..." let's remember that the real joy is in heaven where a loving Father looks down on his precious children and prepares for the day he brings them home.
Title: ""
Author: Phil Ware
Publication Date: December 17, 2001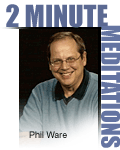 Many more articles
like this are in the
ARTICLE ARCHIVE

_.html" onmouseover="window.status='View a simpler page format that works well with printers.'; return true" onmouseout="window.status=''; return true" title="Printer-friendly Version">

Print this Article

_.html" target="note" onmouseover="window.status='Send this article to a friend.'; return true" onmouseout="window.status=''; return true" onclick="OpenNoteWindow('');" title="Send this article to a friend.">

Send it to a Friend



Discuss