---
/_.jpg" width=120 height=96 alt="" border=0 align=left hspace=5>Learning to Pray (Part 10):

by Lynn Anderson

---



Return with me now to the circle of leaders we visited over two months ago as they confessed their anemic prayer life. Toward evening, they challenged each other to pray five psalms a day for one month. Having prayed through the Psalter in one month, they would then pray one psalm a day for the rest of the year. Let me challenge you to do something similar.

However, I want to encourage you that if you start up this road, don't just settle for reading the Psalms. Wallow in them. Stay in your daily Psalm until "God shows up" — whether that takes one minute or two hours. Read through your Psalm reflectively, slowly, and aloud during your first pass through it. Then pray through it carefully — in the first person, making it your own prayer; then again, on behalf of others, in the second person; and finally, pray the Psalm in sheer adoration of God, surrendering to His will. But don't stop praying when the Psalm ends. Go on from there to pray about the current issues and people that Psalm has brought to your heart. Let the Psalm shape your prayer list for the day.

Let the Psalm shape your prayer list for the day.

Don't get discouraged! The first few attempts at praying the Psalms may seem to do nothing for you. Don't quit. We have heard of the "one minute manager," but there is no such thing as a "one minute contemplative!" Stay with it for many days — in fact, stay with it for at least three months. Trust the process. After all, just as one nutritious meal won't make an undernourished person healthy, neither will one Psalm instantly cure "spiritual scurvy."

Oh yes, praying the Psalms will call for a significant investment of your time. It's worth it. Most of us spend more time with unwanted advertisements than with much needed scripture. If you want a fresh approach to prayer that is not merely a gimmick or the latest fad, try praying the Psalms. This is the path which people of God have traveled most across the last three thousand years. And this path is not just for an elite corps of contemplative souls; it is there for everyone to travel — including you. On this path God can awaken, refresh, broaden and deepen your prayers.

Don't knock it until you've tried it. I do not know anyone who has followed this path that ended up disillusioned or disappointed. God's solution to your prayer problems may actually be this simple, this old, and this obvious. Pray the Psalms.

And as you set off on this prayer adventure, one final thing: May God bless to you on the journey.
Title: ""
Author: Lynn Anderson
Publication Date: November 7, 2001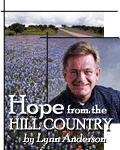 More articles like
this are in the
ARTICLE ARCHIVE

_.html" onmouseover="window.status='View a simpler page format that works well with printers.'; return true" onmouseout="window.status=''; return true" title="Printer-friendly Version">

Print this Article

_.html" target="note" onmouseover="window.status='Send this article to a friend.'; return true" onmouseout="window.status=''; return true" onclick="OpenNoteWindow('');" title="Send this article to a friend.">

Send it to a Friend



Discuss