---
/_.jpg" width=87 height=120 alt="" border=0 align=left hspace=5>Learning to Pray (Part 8):

by Lynn Anderson

---
Time has come to double back on our journey and do some review. We have learned that when the Psalms teach us to pray, they help:
Speak the unspeakable
Explore the uncomfortable
Freshen our prayer with fresh topics
Open us to new purposes for prayer
Get us out of ourselves
Show us where we belong
But praying the Psalms helps us in still more wonderful ways: Seventh, the Psalms free us from the myth of certainty. Praying the Psalms move us toward comfort with ambiguity, mystery and paradox. Today, most believers age forty or older have been reared under what theologians and philosophers call, "modernism." That is, we want answers. We approach things rationally. We want things explained to our satisfaction. We need closure. God, however, will not cooperate! He will not subject Himself to our formulations. He will not be confined, or defined, or defended.

Even the mystery of our own hearts will not submit to such formulations. We human beings are too significant and too complex — too majestic, if you will — for our own comprehension. Our questions are too large for our simplistic answers. I guess I am a slow learner, but as I grow older, time is teaching me that most of my biggest questions will never be answered. That some of the largest truths about ourselves and about God are held in paradox, or shrouded in mystery. These large truths leave us without closure, and with ambiguity.

The Psalms go there with us. Often the Psalms themselves leave us confused and bewildered. They draw us into encounter with a mystifying God. They constrain us to admit that "His thoughts are higher than our thoughts" and "His ways are past tracing out."

The Psalms sometimes raise huge questions for which they make no attempt to provide answers. However, they consistently affirm the wisdom and faithfulness and power and sovereignty and steadfast love of God. They Psalmists repeatedly declare their resolve simply to trust in God. And they bid us do the same.
Title: ""
Author: Lynn Anderson
Publication Date: October 24, 2001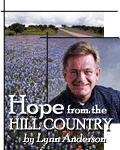 More articles like
this are in the
ARTICLE ARCHIVE

_.html" onmouseover="window.status='View a simpler page format that works well with printers.'; return true" onmouseout="window.status=''; return true" title="Printer-friendly Version">

Print this Article

_.html" target="note" onmouseover="window.status='Send this article to a friend.'; return true" onmouseout="window.status=''; return true" onclick="OpenNoteWindow('');" title="Send this article to a friend.">

Send it to a Friend



Discuss