---
/_.jpg" width=87 height=120 alt="" border=0 align=left hspace=5>Learning to Pray (Part 7):

by Lynn Anderson

---



In addition to everything the Psalms do for us, praying the Psalms gives us a place to belong. Praying the Psalms connects us with "the long story" of worshippers down the centuries. At one level, a Psalm connects us with the person who wrote it. We imagine the circumstances that prompted this specific Psalm. At another level, praying that Psalm connects us to everyone who has ever authentically prayed it.

Praying the Psalms awakens our sense of rootedness with all our Ancient Hebrew forbears as they adored Yahweh in lament and praise. The Psalms also link us with First Century believers. Since the Psalms were both hymnal and prayer book to the early church, when we pray them now, we pour out the very passions of the first Christian worshippers. The Psalms also fill our modern mouths with the very words whispered by terrified saints as they cowered in the catacombs, or faced beast, sword and flame. And the Psalms connect us with the triumphant vision of Reformation and Restoration leaders, as we raise our voices in the same lyrics that rose from their passionate hearts.

The Psalms link us to brothers and sisters...

Today, the Psalms link us to brothers and sisters who may at this very hour be under real persecution, losing jobs and homes and loved ones — even experiencing torture and death. The words we pray may well be the very words tumbling from trembling lips — in Indonesia, India, Laos, the Middle East, China, and Africa as they face terrific hardships and possible death.

Oh yes, praying the Psalms weaves us into the fabric of the family of faith across thirty the centuries, awakening us to the heritage to which we belong. In Eugene Petersen's words (from his book Answering God),
...when we pray the Psalms...we are not by ourselves:... David danced these psalms before the ark and the Hebrews in Solomon's Temple chanted them. Children running down the slope of Olivet waved palm branches and shouted these psalms and Jesus in the upper room with his disciples sang them. The Corinthian Christians celebrated the Eucharist with these psalms and the apocalyptic 144,000 fill heaven with them.
When we authentically pray these psalms today, in a very real sense we are praying with all believers of all times.
Title: ""
Author: Lynn Anderson
Publication Date: October 17, 2001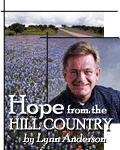 More articles like
this are in the
ARTICLE ARCHIVE

_.html" onmouseover="window.status='View a simpler page format that works well with printers.'; return true" onmouseout="window.status=''; return true" title="Printer-friendly Version">

Print this Article

_.html" target="note" onmouseover="window.status='Send this article to a friend.'; return true" onmouseout="window.status=''; return true" onclick="OpenNoteWindow('');" title="Send this article to a friend.">

Send it to a Friend



Discuss