---
/_.jpg" width=120 height=77 alt="" border=0 align=left hspace=5>Learning to Pray (Part 6):

by Lynn Anderson

---
In previous columns, we've looked at the blessings the collection of the Psalms in the Bible give us. As a quick reminder, here are the first four:
They help us speak the unspeakable.
They help us explore the uncomfortable.
They help us keep our prayer life fresh.
They help us move beyond merely begging.
A fifth blessing, and the one we will explore today, the Psalms get us out of ourselves.

Feeling real connection with the needs of others, and not just our own, energizes our prayers.

Praying the Psalms often pulls us out of our narrow band of self-consumed prayer and re-introduces us to the experiences of the people around us. Feeling real connection with the needs of others, and not just our own, energizes our prayers. When we read a Psalm aloud, especially in a gathering, it may not directly connect with what you are feeling at the time, but it may connect us with the very real and current feelings of someone else in our prayer circle.

Eugene Peterson describes the experience this way:
I open the Psalms and find myself in the place of prayer, ready to pray. I look around and see thirty other men and women from thirty different places, reared in thirty different homes and in the past few hours have experienced thirty different combinations of emotions. Some come from brutalizing experiences, some from a birthday celebration; some are full of hate at what has been done to them, others brimming with joy over the incredible beauties of the day.
Peterson continues:
When the congregation is led in praying Psalm 56, the prayer seethes with experiences of brutality and hate. Hate is the most remote thing from my life right now, but within moments I am praying the experience of hate, in tune with others who may be experiencing it...I enter into common cause with persons who are desperately facing enemies.... (Eugene Peterson, Answering God, Harper and Rowe, San Francisco, 1989, p. 90).
Praying the Psalms together in the congregation conditions us to pray them much better when we are alone. They not only rescue us from repetition and move us out of our self-absorbed prayers, but they connect us with the feelings of others as well and empower us to give comfort to others.
Title: ""
Author: Lynn Anderson
Publication Date: October 10, 2001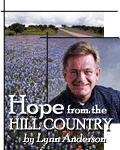 More articles like
this are in the
ARTICLE ARCHIVE

_.html" onmouseover="window.status='View a simpler page format that works well with printers.'; return true" onmouseout="window.status=''; return true" title="Printer-friendly Version">

Print this Article

_.html" target="note" onmouseover="window.status='Send this article to a friend.'; return true" onmouseout="window.status=''; return true" onclick="OpenNoteWindow('');" title="Send this article to a friend.">

Send it to a Friend



Discuss