---
/_.jpg" width=99 height=120 alt="" border=0 align=left hspace=5>
by Phil Ware

---
One of the earliest video reports of the rescue effort at "ground zero" of the obliterated World Trade Center particularly haunts me. A trained rescue dog is led to the chilling and overwhelming mound of rubble to begin his hunt for victims. As he is released from his leash, he spins madly in a circle, overwhelmed by the scent of victims all around him. In his confusion, he doesn't know what to do, where to go, our how to begin. Humanely, his human handler calms him, leads him away, and then brings him back on a slower approach so he can begin his job with less confusion and greater productivity. He moves from confused circling to active help.
There is a great lesson for each of us in that in this horrifying, yet touching display of a desire to help by doing one's job. If you are at all like me, the events of this disaster have had an irresistable magnetic pull on your heart and thoughts. The shock of the sights and sounds are a permanent residue in our souls. Symbols, pictures, reactive precautions and changes dominate our news and flood every nook and cranny of our waking lives.
Many of us feel as if we have walked in a daze for the last month. Our hearts are still in agony for the families of thousands of people from over 80 nations who have lost loved ones. Our minds try to comprehend the tremendous toll on the economies of our world of interconnected nations. Comprehension of whole businesses with hundreds of employess vanishing, leaving hundreds of children orphans is beyond our capabilities. But, sooner or later, we must step away from our mad circling, and move back into productive action and service. Far from dishonoring the memory of those so brutally murdered, our return to active and productive life is our living memorial to them and what their lives meant. Life, especially life of redemptive service, must go on.
This is, however, a huge challenge:
"Where do I start making a difference in a world as fractured as ours?"

"What difference can I make in such a screwed up world?"

"I don't live near any of those places nor know any of those people, what can I do to make a difference?"

"What's the use, we'll just blow it all up or mess it all up anyway?"
The questions are legitimate and sincere. Their answers are as simple as they are important.

Life, especially life of redemptive service, must go on.

We need to let our Lord lead us away from the obsessive power to these events long enough to break the hold confusion has on us. Worship, both public and private, gives us this opportunity. We can focus on God, what he has done and what he will do, and let him loose our mind from this catatonic spell. Then we can let him lead us back into simple, productive, everyday service:
We go back to doing what we do well.

We go back and do what needs to be done in our sphere of influence.

We go back and start with the first thing on our to do list.

We go back and help the person God puts in our immediate path.

We go back to our life's routine and set out to fulfill our life's mission, blessing those with whom we personally come in contact.
This strategy to move beyond mere circling to active service is not new. It's more than just a living parable displayed in the story of the rescue dog and his handler. This strategy is precisely what Jesus did when faced with the overwhelming demands at the beginning of his ministry. Take a moment and go read again the glimpse the Holy Spirit gives us into Jesus' world of mission and ministry in Mark 1:32-45.
Yes, the last month has a been a month of memories marred by unspeakable tragedy and horror. Yes, we will never ever be quite the same. At the same time, however, people around us are in need of love, comfort, and encouragement. Our families need our attention and some return of normalcy. Our churches have untold opportunities for service. People with whom we work face all sorts of challenges both physically and spiritually. While we have every right to be dazed and confused for a time, let's ask our Father, our God, our Shepherd, to lead us away from the madness long enough to be restored and then to be returned to service. It's time we moved beyond circling and obsessing and moved back into the day to day service to others that makes our life worth living and brings God's blessing to those around us.
We will never forget 9/11/2001. We must also remember that the inescapable call of 911 it is not a call to circle or obsess, but a call to action and redemptive service.
Title: ""
Author: Phil Ware
Publication Date: October 8, 2001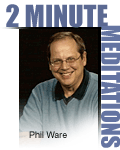 Many more articles
like this are in the
ARTICLE ARCHIVE

_.html" onmouseover="window.status='View a simpler page format that works well with printers.'; return true" onmouseout="window.status=''; return true" title="Printer-friendly Version">

Print this Article

_.html" target="note" onmouseover="window.status='Send this article to a friend.'; return true" onmouseout="window.status=''; return true" onclick="OpenNoteWindow('');" title="Send this article to a friend.">

Send it to a Friend



Discuss