---
/_.jpg" width=120 height=90 alt="" border=0 align=left hspace=5>
by Phil Ware

---
Love must be sincere. Hate what is evil; cling to what is good. Be devoted to one another in brotherly love. Honor one another above yourselves. Never be lacking in zeal, but keep your spiritual fervor, serving the Lord. Be joyful in hope, patient in affliction, faithful in prayer. Share with God's people who are in need. Practice hospitality.

Bless those who persecute you; bless and do not curse. Rejoice with those who rejoice; mourn with those who mourn. Live in harmony with one another. Do not be proud, but be willing to associate with people of low position. Do not be conceited.

Do not repay anyone evil for evil. Be careful to do what is right in the eyes of everybody. If it is possible, as far as it depends on you, live at peace with everyone. Do not take revenge, my friends, but leave room for God's wrath, for it is written: "It is mine to avenge; I will repay," says the Lord. On the contrary: "If your enemy is hungry, feed him; if he is thirsty, give him something to drink. In doing this, you will heap burning coals on his head."

Do not be overcome by evil, but overcome evil with good.

Romans 12:9-21
How many tears can you cry? After having experienced it over and over again, how can it grip so tightly in its clutches again? Yet it does! It moves us. It humbles us. It has driven many of us to our knees, and finding ourselves in the rubble of our own invincibility, we seek answers, and finding none, we seek God.

Is this a genuine holy hope, or is it merely a hood ornament that we will place at the front of our parade until we move on to something else?

Yes, I know the question sounds cynical, but it's not. It's hopeful. It's expectant. It's prayerful. Let me explain.

Not knowing any deeper national sorrow than what we lived through on September 11, and the days that followed with their vivid reminders and horrible realizations, I was shocked when the Friday night news clutched my heart and squeezed out all life. Decked in red white and blue, opposing teams bowed with hands joined, bands from different schools playing together, and against the recent ruling of the Supreme Court, people prayed and sang to God and about God. In that moment of reverent and mournful unity, a deeper sadness struck my soul; our kids didn't know how to sing God Bless America. On Sunday, as we finished our time of worship, we too sang this prayer hymn to God, asking for his protection and blessing in this time of national and world distress. Many of our church children and teens didn't know the song.

How powerfully poignant and sad! But shouldn't it be expected? Our children are not allowed to sing that song in school. This is based on a twisted reading of the Constitution that reigns supreme in the courts. Please, I'm not a wild-eyed gung-ho advocate of mandatory prayer in schools. (I am an ardent advocate of voluntary prayer groups in school!) I lived when we were forced to pray prayers that I don't feel comfortable praying. At the same time, to excise the music and the motivation for so much of our country's history and culture is absurd and historically inaccurate. Many school systems in Russia are now openly courting a theistic based understanding of ethics and morals because they have seen the horrors of atheism and anti-theism destroy the moral and ethical fiber of their families, government institutions, and law enforcement. How ironic!

Many of our children and teens didn't know the song God Bless America. How sad!

So how do we keep the current thirst for the presence of God alive in the hearts of our families, our people, and our culture? I'm not sure, but I do believe a couple of crucial steps can help make a difference.

First, rather than making a public spectacle of our faith, let's get on our knees and pray. I'm not talking figuratively. Let's designate a place in our houses or apartments or nearby parks, and regularly go to our Heavenly Father in prayer every day, on our knees. We have several plans to help you do just that if you would like some help in doing this. In addition, we'd like to invite you to join our church family in a 40 day effort called "A Time for Prayer." This includes a day of fasting every 8 days and uses Ecclesiastes to help us in our prayer focus.

Second, as we pray, let's specifically ask God to bring about a Holy Spirit led revival in our hearts, our families, our churches, and in our land. America is not God's country the way that Israel is described in the Old Testament. But America, or any nation, can be a powerful tool for good if God's people come alive with a holy passion for godly character, forgiveness, grace, mercy, virtue, and justice in our daily lives.

Third, let's practice what we preach in our own lives and worry less about trying to force others to adopt the virtues we preach, but often don't achieve. Our culture, our country, and our enemies need to see our integrity before they hear our voices. A life of character is much harder to dismiss than a sermon delivered by an eloquent demagogue.

Fourth, let's be good citizens. That means prayerfully voting. That means serving in volunteer organizations in our communities and not just in our churches. That means getting involved in social action to bless the disenfranchised, the forgotten, and the helpless. Let's encourage our children to be leaders in our culture in every arena, including politics, media, and entertainment. But as they venture into those areas, let's also hold them in our heart and keep them in our prayers and help them find support by others who share their faith and their vocation.

We have an incredible opportunity for good things, for God's things, that usually only rolls around once in a lifetime. By God's grace, we could possibly see genuine, widespread, Spirit-led revival that can bless and redeem our land. Let's not let our holy hope be relegated to a hood ornament on the 21st Century! Let's keep our spiritual passion!
Title: ""
Author: Phil Ware
Publication Date: October 1, 2001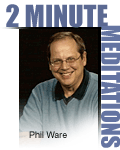 Many more articles
like this are in the
ARTICLE ARCHIVE

_.html" onmouseover="window.status='View a simpler page format that works well with printers.'; return true" onmouseout="window.status=''; return true" title="Printer-friendly Version">

Print this Article

_.html" target="note" onmouseover="window.status='Send this article to a friend.'; return true" onmouseout="window.status=''; return true" onclick="OpenNoteWindow('');" title="Send this article to a friend.">

Send it to a Friend



Discuss