---
/_.jpg" width=120 height=79 alt="" border=0 align=left hspace=5>Learning to Pray (Part 4):

by Lynn Anderson

---



The Psalms help us explore the uncomfortable. God provides therapy through the Psalms. As we pray all of the Psalms — laments as well as praises — they will take us into emotional geography that we might otherwise avoid. They lead us to process painful feelings we might otherwise just stuff down inside.

Our "happy happy" culture programs us to avoid painful or negative feelings. But serious downsides come with this kind of avoidance. Mental health professionals have long since discovered that swallowed painful feelings, like anger, fear and shame usually produce negative consequences. These feelings frequently come out in some destructive form, such as clinical depression or substance abuse or sexual acting out. God knew this. And I believe one reason he gave us the Psalms is to help us unearth these kinds of feelings and deal with them. By praying the Psalms we vent and lay our stuff honestly at His feet. God is big enough to let us beat on his chest.

We can spill out our hearts to Him, even rage out our disappointments in Him and our angers at Him. In fact, many of the Psalms do just that!

Not long ago a Christian woman, struggling with doubts and darkness confided, "I can hardly stand to go to church. Not that I don't want to worship God, or be around His people. It's just that everything sounds so positive. They sing bright songs, preach upbeat messages, and smile so much — and seem to ignore the pain that must be sitting in those pews. It makes me feel so outside of everything there, so disconnected."

This lady eloquently raised a red flag over the marketing mind-set invading some contemporary churches. Sometimes the mood seems be, "Don't talk about negative stuff at church. That won't attract folks. Let's bring 'em in. Pump 'em up. And send 'em out grinning."

"Let's bring 'em in. Pump 'em up. And send 'em out grinning."

For years I have advocated "praise teams" to help lead us in worship. Still do, of course. But lately I have been wondering if we don't also need some "lament teams" at times. Sunday after Sunday, people show up on our pews in some state of real lament. The Psalms know this. About 60% of them are "psalms of lament." But these are often ignored.

We want the mood in our assemblies "up beat." To do so we sometimes even pillage bright phrases from Psalms of lament, and turn them into up-beat praise choruses. For example, the words "as a deer pants for the water, so my soul longs after you" are lifted from the anguish of Psalm 42: and spliced into a warm and adoring popular praise song. The real point of Psalm 42 doesn't sing well in a praise chorus, so it is left behind. Listen to some of it: "My tears have been my food day and night" "why are you downcast, O my soul? Why so disturbed within me?" "Why have you forgotten me? Why must I go about mourning?" This is merely one example of bright phrases stripped from the heart of a Psalm of lament.

Of course, all the Psalms of lament speak their triumphal note of hope, with one exception: the 88th Psalm. This dark Psalm contains no hope, and ends with the dismal words, "the darkness is my closest friend." To get the feel of what I am talking about, slowly read aloud Psalm 88, reflectively.
O LORD, the God who saves me, day and night I cry out before you. May my prayer come before you; turn your ear to my cry. For my soul is full of trouble and my life draws near the grave. I am counted among those who go down to the pit; I am like a man without strength. I am set apart with the dead, like the slain who lie in the grave, whom you remember no more, who are cut off from your care. You have put me in the lowest pit, in the darkest depths. Your wrath lies heavily upon me; you have overwhelmed me with all your waves. Selah

You have taken from me my closest friends and have made me repulsive to them. I am confined and cannot escape; my eyes are dim with grief. I call to you, O LORD, every day; I spread out my hands to you.

Do you show your wonders to the dead? Do those who are dead rise up and praise you? Selah

Is your love declared in the grave, your faithfulness in Destruction? Are your wonders known in the place of darkness, or your righteous deeds in the land of oblivion? But I cry to you for help, O LORD; in the morning my prayer comes before you. Why, O LORD, do you reject me and hide your face from me? From my youth I have been afflicted and close to death; I have suffered your terrors and am in despair. Your wrath has swept over me; your terrors have destroyed me. All day long they surround me like a flood; they have completely engulfed me. You have taken my companions and loved ones from me; the darkness is my closest friend.
Now read it again in another translation:
You keep me safe, LORD God. So when I pray at night, please listen carefully to each of my concerns. I am deeply troubled and close to death; I am as good as dead and completely helpless. I am no better off than those in the grave, those you have forgotten and no longer help. You have put me in the deepest and darkest grave; your anger rolls over me like ocean waves. You have made my friends turn in horror from me. I am a prisoner who cannot escape, and I am almost blind because of my sorrow. Each day I lift my hands in prayer to you, LORD.

Do you work miracles for the dead? Do they stand up and praise you? Are your love and loyalty announced in the world of the dead? Do they know of your miracles or your saving power in the dark world below where all is forgotten? Each morning I pray to you, LORD. Why do you reject me? Why do you turn from me? Ever since I was a child, I have been sick and close to death. You have terrified me and made me helpless. Your anger is like a flood! And I am shattered by your furious attacks that strike each day and from every side. My friends and neighbors have turned against me because of you, and now darkness is my only companion.
See what I mean?
A surprising number of people in your church might be helped enormously if some Sunday soon, your worship leader planned an entire worship assembly around Psalm 88! And how it might please God as well. God knows our needs and our long periods of darkness. That is why he left those dark Psalms in the Bible. We need them. Your church needs them too. The Psalms teach us to pray openly and honestly to God, especially out of the darkest nights of our soul.
Title: ""
Author: Lynn Anderson
Publication Date: September 26, 2001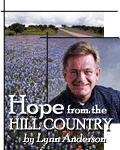 More articles like
this are in the
ARTICLE ARCHIVE

_.html" onmouseover="window.status='View a simpler page format that works well with printers.'; return true" onmouseout="window.status=''; return true" title="Printer-friendly Version">

Print this Article

_.html" target="note" onmouseover="window.status='Send this article to a friend.'; return true" onmouseout="window.status=''; return true" onclick="OpenNoteWindow('');" title="Send this article to a friend.">

Send it to a Friend



Discuss