---
/_.jpg" width=88 height=130 alt="" border=0 align=left hspace=5>
by Phil Ware

---
Share your thoughts on the tragedy in our journal
A special prayer page for the disaster
"Woe to me!" I cried. "I am ruined! For I am a man of unclean lips and I live among a people of unclean lips, and my eyes have seen the King, the LORD Almighty." ... Then I heard the voice of the Lord saying, "Whom shall I send? And who will go for us?" And I said, "Here am I. Send me!"(Isaiah 6:5, 8)
Tragedy that has ripped through the hearts of so many across the world has hit very close to home for many of us in the USA. During this time of horror, shock, injury, and death, how are we to react? While many thoughts come to mind, a few seem clear to us.

We must pray. We must pray for the President and for other world leaders as they deal with these series of attacks and the horrible toll on lives of so many people. We must pray for the families of those directly impacted so tragically by the hijacked planes and their targets. We must pray for those who are involved in the rescue efforts and who try to deal with the horrific carnage and destruction to human beings. Pray! Pray in your office. Pray in your home. Pray in your church.

We must take a firm stand against prejudice and improper "hurry to judgment" against people simply because of their national descent or race. It is so easy to for us to lump together people of race, geographical, or national origin because of the actions of a vicious few who do not represent them. The Kingdom of God is made up of all peoples and races, and we must be a haven of protection and grace for those who might be treated unfairly because of prejudice and reactive hate.

During this time of horror, shock, injury, and death, how are we to react?

Let's also hear this as a vivid reminder of Isaiah's poignant and sobering words. We live in a fallen world with a dark evil prince who seeks to destroy people and ruin lives with hate and death. In the midst of such a world, let's also live under the strong conviction that the only hope for our world is redemption and unification in the grace of God. After the horrors of World War II, many of those who had been involved in these horrors and brutalized in concentration camps led the Church of Jesus into unprecedented outreach through world missions to the very people who had mistreated, tortured, and imprisoned them. Our call is to redeem a fallen world. This is a sad and sobering remind of just how fallen it truly is.

Those of us who still have grave concerns for friends and loved ones who were working at the World Trade Center, The Pentagon, or in the air as passengers, flight attendants, and flight crews request your prayers for their families and us. We are are citizens in the world and called by Jesus to redeem the world. Our ultimate citizenship is in heaven, but our heart breaks, along with God's heart, for the destructive hate that still permeates our world and is the tool of the evil one to wound, maim, and kill people who are precious to God. As long as the memory of this horrifying day lingers in our hearts, let's also commit to make a difference in our world by sharing the grace of Jesus.

This is a horrible, tragic, and terrifying time. It is also a time for God's people to show who we are with courage, empathy, compassion, grace, and faith as we seek to serve and to be a blessing in such shocking and painful times.
Title: ""
Author: Phil Ware
Publication Date: September 11, 2001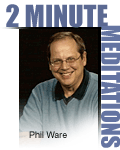 Many more articles
like this are in the
ARTICLE ARCHIVE

_.html" onmouseover="window.status='View a simpler page format that works well with printers.'; return true" onmouseout="window.status=''; return true" title="Printer-friendly Version">

Print this Article

_.html" target="note" onmouseover="window.status='Send this article to a friend.'; return true" onmouseout="window.status=''; return true" onclick="OpenNoteWindow('');" title="Send this article to a friend.">

Send it to a Friend



Discuss