---
/_.jpg" width=120 height=82 alt="" border=0 align=left hspace=5>
by Phil Ware

---



The early Christians knew there were two ways to view time. The first focused on the passage of time chronologically. The word for this kind of time was, of course, chronos. The other way to view time was to see it as strategic moments when something more than just the mere passage of time is in play. At these strategic moments, several different layers of life and reality converge at a given moment and provide great opportunity. This kind of time was called kairos.

For Christians, this coalescence of people, places, times, and events, is more than coincidence, fate, or the alignment of the planets. God is at work redeeming time, working in history, and shaping his people through strategic moments and events. While we don't completely know why or how things work out the way they do in those moments of opportune time, we believe that God is behind the moment. He is the God of kairos. For believers, there are no such things as coincidences, just "God-incidences."

Recently, I suggested to one of our elders that we go visit some folks. I'm not sure why these people weighed so heavily on my heart. My faith leads me to believe that it wasn't really just my idea, but a "prompting" of the Spirit. When we arrived, it was clear that we were supposed to be there at that moment. Another person was there who needed some special attention and prayer. In addition, the people with whom we visited very much needed to talk. That day was a very special day for them; a day filled with emotion and remembrance. It was good that we were there. It was a "God-incidence."

Somewhere in all of that, I believe that God gets me to the right place, at just the right time, a whole lot of the time.

I'm not sure how to know at the time that a "nudge" or a "thought" to do something is actually the leading of the Spirit. I know some folks have formulas and others attribute everything to "God led me to tell you..." kind of promptings. All I know to do is to pray, search Scripture, and ask wise spiritual people for advice on big things. In the small daily things, I try to live by my Christian priorities, honor my commitments to others, and to routinely place the people of God in my thoughts and in my prayers. Somewhere in all of that, I believe that God gets me to the right place, at just the right time, a whole lot of the time.

Does this make me special? Yeah! I'm a child of God and God is working in me and through me; that's special.

Does that make me unique or more special than anyone else? Nope! God does the same kinds of things in the life of each of his children who are yielded to him in love and who respond to his call to follow (Romans 8:28-29; Philippians 2:12 — It is God who produces in you the desires and actions that please him. GWTN)

The point of all of this is really very basic. We need to live a deeper sense of wonder and awe! God knows us personally (Psalm 139). He regularly works in our lives (Rom 8:28). Our Heavenly Father gives us special abilities to serve him and bless his people (Rom 12:6-9). We shouldn't be surprised when the LORD puts us in the right place, at the right time, to be a blessing to others. Let's just make sure we're awake to the possibilities of his grace being used in us when it is most needed. God not only works in history (chronos), but he also accomplishes salvation through his "everyday" people at just the right time (kairos). He works in us and through us in "God-incidences."
Title: ""
Author: Phil Ware
Publication Date: September 10, 2001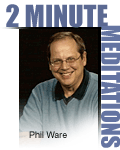 Many more articles
like this are in the
ARTICLE ARCHIVE

_.html" onmouseover="window.status='View a simpler page format that works well with printers.'; return true" onmouseout="window.status=''; return true" title="Printer-friendly Version">

Print this Article

_.html" target="note" onmouseover="window.status='Send this article to a friend.'; return true" onmouseout="window.status=''; return true" onclick="OpenNoteWindow('');" title="Send this article to a friend.">

Send it to a Friend



Discuss