---
/_.jpg" width=120 height=79 alt="" border=0 align=left hspace=5>Learning to Pray (Part 1):

by Lynn Anderson

---
A dozen Christian men leaned in around a table discussing something big — the "P-word," Prayer!
"I hate to admit it" James confessed, "but sometimes my schedule gets so hectic I don't really pray much for days."
"My problem is a bit different," Brad joined in, " I usually pray fairly regularly. But, my prayers often feel stale and I get into this rut praying the same old things every day."
Clarke agreed, "I hear that. Rote, stale, and repetitive. Plus my prayers become narrower and narrower. Here lately I pray mostly about me: my needs, my family, and my ministry. Me!"
James, Brad and Clarke (not their real names) were not mere novices in the faith. They were widely respected church leaders! And, of course their struggles are not unique. Across the country lots of sincere Christians find themselves stuck in similar ruts:
Stale and shallow prayers.
Numbing repetition.
Praying mostly about surface issues.
Narrowing scope of prayer topics.
Praying laundry lists of self-centered wants.
Prayer focused on us rather than on relationship with God.
Prayer becoming intermittent even badly neglected.
Are these dismal swamps inevitable? Maybe not. Part of the problem could be flawed approaches to prayer. We may be attempting quick fixes that cannot pull us permanently out of the prayer doldrums. For example, New year's resolutions don't help. We rarely keep them. Even if we stick with them, prayer often goes numb by April. Or maybe you have set your watch to beep you when it is 'prayer time.' Our you have tried to stand, jog or peddle an exercise bike to stay alert during prayer. Or to pray during drive time, so that red traffic light, is not an annoyance, but a call to prayer. Or to fill each calendar square with a person to pray for that day. Or — well you make your list. But you have likely discovered that what seemed a helpful crutch in the short run, did not sustain a lasting, vibrant prayer life. Gimmicks won't get it. Believe me. I know. Been there. Done that.

So what is to be done?

Daunting question. But we're going to work on an answer. Check back and we'll continue the discussion on LEARNING TO PRAY. Next is #2: A review of Popular 'Prayer Techniques.'

Let's go deeper! Let's not stop till we find genuine prayer that leads us into the presence of the Father and allows us to "stand on the rim of mystery!"
Title: ""
Author: Lynn Anderson
Publication Date: August 29, 2001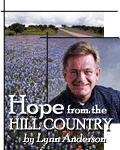 More articles like
this are in the
ARTICLE ARCHIVE

_.html" onmouseover="window.status='View a simpler page format that works well with printers.'; return true" onmouseout="window.status=''; return true" title="Printer-friendly Version">

Print this Article

_.html" target="note" onmouseover="window.status='Send this article to a friend.'; return true" onmouseout="window.status=''; return true" onclick="OpenNoteWindow('');" title="Send this article to a friend.">

Send it to a Friend



Discuss