---
/_.jpg" width=120 height=88 alt="" border=0 align=left hspace=5>
by Paul Faulkner

---



You hear the word "immune" a lot... I guess everyone would like to be the person who is immune, who can be exposed to disease and avoid becoming ill.

It's like they are teflon-coated!

It's amazing that certain people can be exposed to filth and dirty talk and ugliness and sin and ungodliness and it doesn't seem to stick. It's like they are teflon-coated — the bad stuff just slides off! Well, that's how Jesus was. Able to be around sin and evil without becoming sinful himself.

Now, how do you rear children to be immune like that? John Siber gave a good answer; he said, "Children from strong homes who attend vital churches and are deeply nurtured in religious traditions and develop a moral center to guide their choices seem remarkably immune to negative influences."

He's right! I encourage you to spiritually immunize your children... through the Word.
Title: ""
Author: Paul Faulkner
Publication Date: July 13, 2001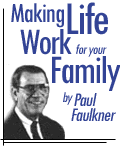 More articles like
this are in the
ARTICLE ARCHIVE

_.html" onmouseover="window.status='View a simpler page format that works well with printers.'; return true" onmouseout="window.status=''; return true" title="Printer-friendly Version">

Print this Article

_.html" target="note" onmouseover="window.status='Send this article to a friend.'; return true" onmouseout="window.status=''; return true" onclick="OpenNoteWindow('');" title="Send this article to a friend.">

Send it to a Friend



Discuss