---
/_.jpg" width=120 height=94 alt="" border=0 align=left hspace=5>
by Lynn Anderson

---



Carolyn, my wife, loves lighting candles. As for me, I tend to burn them at both ends.

Occasionally, I arrive home from fast moving, stress-inducing, high-octane weeks of travel physically weary and emotionally numbed. But Carolyn knows how to lower my RPM's and lead me towards Sabbath. She begins by lighting candles. She creates quiet circles of peace and Sabbath around those friendly, graceful little flames. And I love it. Carolyn does not do this for conscious 'religious' reasons. Nevertheless, the result for me is something like that for which 'religious' Sabbaths were intended.

...in this moment, the stopping truly begins.

This fits with Muller's comments on candles and Sabbaths, "the traditional Jewish Sabbath begins at sundown, the 'Christian Sabbath' with morning worship." In some traditions "both Jewish and Christian 'Sabbath keeping' begin with the lighting of candles. Those who celebrate Sabbath find that in this moment, the stopping truly begins. They take a few breaths, allow the mind to quiet, and the quality of the day begins to shift. [one] says she can feel the tension leave her body as the wick takes the flame. . [another] says she often weeps, so great is her relief that the time for rest has come. [another] who does not celebrate Sabbath at all, (as religion) says that 'when she has prepared dinner for her family and is ready to eat, she is especially fond of the moment she lights the candles. It is, she says, a kind of silent grace, a ritual beginning of family time." (Wayne Muller, Sabbath, p. 20)

Last evening, as Carolyn lit her candles, I felt the tension drain out of my body. My soul-numbness gave way to quiet joy.

When the sun rose this morning, already God seemed here in fresh new ways. Sabbath is not necessarily Saturday. In fact, it is not necessarily a day. For us Sabbath is "quiet space when we unplug from the rush of time long enough and completely enough to re-connect with eternity and feel the spirit descend to deeper places."

Thus "there always remains a Sabbath rest for the people of God." The thrill of my business can't hold a candle to this Sabbath peace.
Title: ""
Author: Lynn Anderson
Publication Date: July 4, 2001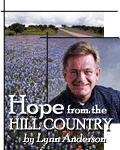 More articles like
this are in the
ARTICLE ARCHIVE

_.html" onmouseover="window.status='View a simpler page format that works well with printers.'; return true" onmouseout="window.status=''; return true" title="Printer-friendly Version">

Print this Article

_.html" target="note" onmouseover="window.status='Send this article to a friend.'; return true" onmouseout="window.status=''; return true" onclick="OpenNoteWindow('');" title="Send this article to a friend.">

Send it to a Friend



Discuss