---
/_.jpg" width=88 height=120 alt="" border=0 align=left hspace=5>
by Lynn Anderson

---



Friends like Jerry and Scotty help slow me down and swim me toward the deep. Months back, Jerry sent me the book, but I set it on the shelf, "too busy to read it." This week Scotty pointed me to a line in it that read, "The Chinese pictograph for 'busy' is composed of two characters: heart and killing."

So I couldn't help but read on, "If busyness can become a kind of violence, we do not have to stretch our perception very far to see that Sabbath time — effortless, nourishing rest — can invite a healing of this violence." In fact, quietness before God may literally save my heart. One way or the other, Sabbath is survival. "It was not Israel that kept the Sabbath, but the Sabbath that kept Israel."

"It was not Israel that kept the Sabbath, but the Sabbath that kept Israel."

The book is, SABBATH: Restoring the Sacred Rhythm of Rest, by Wayne Muller. He says Sabbath is more than just a day to "catch up on television and errands." Rather it is "time when we take our hand from the plow and let God and the earth care for things, while we drink, if only for a few moments, from the fountain of rest and delight."

Sabbath also gives me more heart to go on. "In Sabbath time we remember to celebrate what is beautiful and sacred; we light candles, sing songs, tell stories, eat, nap and make love. ...we become available to the insights and blessings of deep mindfulness that arise only in stillness and time. When we act from a place of deep rest, we are more capable of cultivating right understanding, right action and right effort."

A hearty Amen! I have long since discovered that my work is most fruitful when I am quiet enough, often enough to tap in on the miraculous resilience God wants to pour into my being. Even our "little Sabbaths" empower us with infinitely more to offer others.
Oh Adonai, thank you for Jerry and Scotty who helped me remember, "Be still, and know that I am God."
Title: ""
Author: Lynn Anderson
Publication Date: June 13, 2001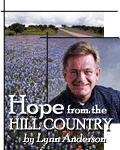 More articles like
this are in the
ARTICLE ARCHIVE

_.html" onmouseover="window.status='View a simpler page format that works well with printers.'; return true" onmouseout="window.status=''; return true" title="Printer-friendly Version">

Print this Article

_.html" target="note" onmouseover="window.status='Send this article to a friend.'; return true" onmouseout="window.status=''; return true" onclick="OpenNoteWindow('');" title="Send this article to a friend.">

Send it to a Friend



Discuss