---
/_.jpg" width=97 height=120 alt="" border=0 align=left hspace=5>
by Lynn Anderson

---



"A wealthy New York couple withdrew their three-million-dollar pledge to the Central Park Children's Zoo — because the city proposed a commemorative plaque smaller than the couple wanted!" This headliner in Wayne Muller's book, Sabbath: Restoring the Spiritual Rhythm of Rest, punched my buttons. So I lifted some choice lines from Muller for today's reflections.

Contrast the New York couple with the late Henri Nouwen, who turned down a White House invitation to provide spiritual counsel for the first family. Though Nouwen empathized with their sorrows, he explained, "I am here with Adam, my retarded friend. Others can go to the White House. Adam needs me."

Of course this went un-noticed by the press. No wonder. Though Jesus was everything good, the world took notice only to kill him for it.

More often the real reward will come in secret.

Muller powerfully reminds us of crucial truths we can find in the quiet of our Sabbath rest.
"One of the things that died with Jesus was the illusion that the world will always reward good deeds. In quiet times, alone, we retreat from the illusion of our own indispensability."

"True freedom comes when we become 'nobody special.' We do not do serve and teach for glory and honor, but simply because we must, because we believe in the value of right action and good labor. In the end we may or may not receive our reward from the world. More often the real reward will come in secret. During a quiet walk when we suddenly feel lighter; when we receive a kind word, and the heart is made warm and full; during a moment's reflection, when we feel a clarity of purpose. In these and a thousand other unexpected ways, we secretly receive our reward."

"The word humility, like the word human, comes from humus, or earth. We are simply dust and spirit — at best. Loving midwives. Participants in a process much larger than we. If we are quiet and listen and feel how things move, in the end we are granted the tremendous blessing of knowing that we do very little at all by ourselves."
Our master said, "Be careful not to do your 'acts of righteousness' before men, to be seen my them. If you do, you will have no reward from your Father in heaven. So when you give to the needy, do not announce it with trumpets, as the hypocrites do in the synagogues and on he streets, to be honored by men. I tell you the truth; they have received their reward in full. But when you give to the needy, do not let your left hand know what y our right hand is doing, so that your giving may be in secret. Then your father who sees what is done in secret, will reward you." (Matthew 6:1-4).
Oh Lord, rescue me from my craving to be noticed, appreciated — loved. This hankering generates only duplicity, resentment and depression, and robs me of your best rewards. Oh Adonai, Grant, my highest satisfaction in the deep, quiet joy of your smile on those rare occasions when I secretly co-operate with your amazing grace. Please keep reminding me, that 'you are most glorified in me, when I am most satisfied in you.' Amen.
Title: ""
Author: Lynn Anderson
Publication Date: June 6, 2001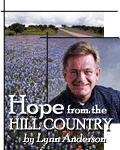 More articles like
this are in the
ARTICLE ARCHIVE

_.html" onmouseover="window.status='View a simpler page format that works well with printers.'; return true" onmouseout="window.status=''; return true" title="Printer-friendly Version">

Print this Article

_.html" target="note" onmouseover="window.status='Send this article to a friend.'; return true" onmouseout="window.status=''; return true" onclick="OpenNoteWindow('');" title="Send this article to a friend.">

Send it to a Friend



Discuss