---
/_.jpg" width=120 height=79 alt="" border=0 align=left hspace=5>
by Paul Faulkner

---



I'm reading a book today and it looks like my wife wrote in the margin, "Thirsty in the rain." That's a quote by Peter Rowan, and isn't it graphic? Thirsty in the rain!

There are certain people who don't seem to get anything to drink in the middle of a flood of water. You see them almost every day.

If you're thirsty, here's a cup...

I hear the rain of God's grace coming down in the summer rain on my metal roof. I hear his cheerful voice through the birds, and the whimpering of the little puppies in corrall.

And still there are people we know who walk through this life and never notice the blessings of God. All they see, hear or smell seems to be vile at its worst or benign at its best.

Hopefully you're not like that. If you're thirsty, here's a cup... open your eyes and drink deeply of the grace of God! There is never, ever a reason to be thirsty in the rain.
Title: ""
Author: Paul Faulkner
Publication Date: May 11, 2001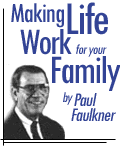 More articles like
this are in the
ARTICLE ARCHIVE

_.html" onmouseover="window.status='View a simpler page format that works well with printers.'; return true" onmouseout="window.status=''; return true" title="Printer-friendly Version">

Print this Article

_.html" target="note" onmouseover="window.status='Send this article to a friend.'; return true" onmouseout="window.status=''; return true" onclick="OpenNoteWindow('');" title="Send this article to a friend.">

Send it to a Friend



Discuss