---
/_.jpg" width=120 height=91 alt="" border=0 align=left hspace=5>
by Lynn Anderson

---
Sabbath doesn't have to be on Saturday. Nor taken as a whole day. Sometimes it lasts only a moment. Today my Sabbath lasted 250 miles as Abraham and I rolled through the Texas Hill Country. We covered this same terrain last Thanksgiving. Things were gray then. That time we traveled under a bland gray sky, across drought-drained dreary gray. Miles of dull, gray pavement, stretching across vast gray pasture. Through bleak gray hills past dormant gray Scrub Oak sticks and naked gray Mesquite arms. Gray.
But no gray today! Green instead. Today is April in Texas, following a record wet winter. This trip, lush springtime smiles from every hilltop and at every river crossing. Fresh grass carpets rolling green hills from summit to valley, as far as eye can see. Soft, pale green spreads across Mesquite bows, here and there dotted by dark green Scrub Oak. Green. And so much more. For green merely backdrops the brilliant extravaganza of wild flower colors: Startling crimson Indian Paint brush. Radiant gold-fringed Black Eyed Susan, tiny blossoms of purple, pink, and white — amidst oceans of deep, rich, Bluebonnet blue. Blue, splattering the roadsides and the pasturelands, spilling across meadows and up hillsides under regal Spanish Oaks. Overhead beams a radiant sun, and a lone fleecy cloud floats, across an endless blue sky.
So a Sabbath came to Abraham and me today. (Abraham is my 'earth wandering' old Toyota 4Runner, so named by our Grandchildren.) Sweet Sabbath. A quiet and beautiful space for...
...remembering God!
...pondering the rush of His creative energy in the living things all around.
...marveling at His wise designs and His loving presence.

Sabbath space to feel His voice caress my soul, reminding me that His grace always stands waiting to cover my dead gray, with lush explosions of floral color.

He hands out a fresh new beginning.

"The Almighty has not gone away," I mused, "nor quit loving, nor lost His power during 'the gray of soul's winter.' He has been waiting. Waiting for my Sabbath. Now he flags me down with this springtime splendor, till I am still enough to hear Him whisper like silent thunder. He hands out a fresh new beginning. He declares that life and labor are not in vain. He really does spread the lush green of His grace and bright flower of hope over the gray of my ordinariness, my failures, and my sins. He reminds me that in His eyes, I am valuable and useful — and I am loved.

Sabbath! Yes. For Sabbath, says Wayne Muller, in Sabbath: Remembering the Sacred Rhythm of Rest and Delight, "...is a day we walk in the forest, walk among the fruits of our harvest and the ruins of our desperations, and see what lives. On the Sabbath, we rest. And see that it is good."

"And God said, 'it is good.'" (Genesis 1)
Title: ""
Author: Lynn Anderson
Publication Date: May 9, 2001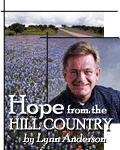 More articles like
this are in the
ARTICLE ARCHIVE

_.html" onmouseover="window.status='View a simpler page format that works well with printers.'; return true" onmouseout="window.status=''; return true" title="Printer-friendly Version">

Print this Article

_.html" target="note" onmouseover="window.status='Send this article to a friend.'; return true" onmouseout="window.status=''; return true" onclick="OpenNoteWindow('');" title="Send this article to a friend.">

Send it to a Friend



Discuss