---
/_.jpg" width=120 height=94 alt="" border=0 align=left hspace=5>
by Lynn Anderson

---



You can discover — or recover — the salty tang of life and faith, the vigor and potency of believing and, consequently, of really living. You can let God reawaken all the worlds of your being and ever so gently shape out a rich, full faith. Maybe you feel clumsy at first. But you can learn to dance these first few steps.

First, you may need to slow your pace. It's always tempting to grab hold of faith or to "fix" broken faith in a hurry. But in our wild attempts to save time, we can easily lose eternity. Faithful living — life that is "full of faith" — rarely comes in the midst of hastiness. To find our way into faith, we may need to lower the RPMs and cool our engines.

Second, you may need to still the noise and search for solitude so that you can listen for God's voice. Elijah, who listened for God's voice in a mighty wind and in an earthquake, and in a raging fire, heard Him only in a "still small voice." (1 Kings 19:11-12, KJV) In a world saturated with woofers, tweeters, traffic, television, jet whistles, disk jockeys, sirens, and screams, how does a person contemplate the God of the still, small voice?

"...silence is the mystery of the future world."

The Psalmist says, "Be still, and know that I am God." (Psalm 46:10) Henri Nouwen cautioned, "The word is the instrument of the present world, and silence is the mystery of the future world."* Solitude may be difficult to find in our world, but nurturing depth demands that we search for silence till we find it. And finding silence calls for specific choices. If I do not attack the clock and the calendar, they will attack me!

Nouwen also calls solitude "the furnace of transformation."** To explore our own doubt and faith and to confront the Holy One, we absolutely must escape the superficial chatter of multiple relationships and activities and find large chunks of solitude, even in the midst of hectic and overpopulated days.

Third, to awaken all your worlds, you may also need to simplify and prioritize the intake of your life. We get to life just as the Bible says, through the narrow gate. A full life is not reached via the broad way, which seeks to accumulate as many things, ideas, and experiences as possible. Too much will smother us.

Novelist Thomas Wolfe, eager for full life, once said that he wanted "to ride in all the trains, read all the books, and sleep in all the beds."*** I can understand Wolfe's feelings. I, too, am incurably curious and tend to draw myself into constant overcommitment lest I "miss something."

But I am learning that at this pace I do not exhaust events; they exhaust me. Vitality consists in quality of life, not merely in quantity. Actually, the biblical concept of "eternal life," when Scripture is taken all together, has as much to do with how well we live as it does with how long! (Hints of this appear in John 10:10, John 1:4, Romans 8:10-17, Philippians 1:6, 1 John 5:1-12) Perhaps this is why Francis of Assisi advised:
If you want to live life free,
Take your time, go slowly,
Do few things, but do them well,
Heart-felt joys are Holy.****
Fourth step? ... well, that's for next time.
* Henri Nouwen, The Way of the Heart (New York: Ballantine, 1981), pp. 34-35.
** Nouwen, The Way of the Heart, p. 13.
*** Quoted in William C. Kerley, "Finding Faith Again," Mission, November 1972, p. 6.
**** Francis of Assisi, from the soundtrack from Brother Sun and Sister Moon, copyright 1972 Euro International Films S.P.A. Original story and screenplay by Suso Cecchi D'Amico, Kenneth Ross, Lina Wertmuller, Franco Zeffirelli, music by Donovan. Permission requested.
Title: ""
Author: Lynn Anderson
Publication Date: April 25, 2001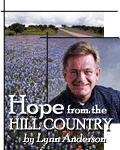 More articles like
this are in the
ARTICLE ARCHIVE

_.html" onmouseover="window.status='View a simpler page format that works well with printers.'; return true" onmouseout="window.status=''; return true" title="Printer-friendly Version">

Print this Article

_.html" target="note" onmouseover="window.status='Send this article to a friend.'; return true" onmouseout="window.status=''; return true" onclick="OpenNoteWindow('');" title="Send this article to a friend.">

Send it to a Friend



Discuss