---
/_.jpg" width=120 height=79 alt="" border=0 align=left hspace=5>
by Lynn Anderson

---
"Blessed are those who live in your house! They are ever praising you!" (Psalm 84:4)
When you paused a moment in this morning's outdoors, you may have sensed motion all around you. A breeze tousled your hair while its parent moved the fluffy cloud across the blue. Fresh Spring sprang steadily, joyfully from the soil, and soft leaves popped out of new twigs. Buds burst into blossoms, filling the air with fresh fragrance. Creative motion, God still at work. Then a Mockingbird filled the morning silence with a song, and a treetop fluttered alive with feathery music. Ongoing creation against a backdrop of praise.

God has been creating since the beginning. He still creates, and will never stop creating. And it seems He always has created to a back-drop of praise. "Where were you," the Creator asked Job, "when I laid the earth's foundation ...while the morning stars sang together and the angels shouted for joy?" (Job 38:4-7)

He still creates, and will never stop creating.

When you entered His presence in worship today, God was creating then, too. His Word keeps thought and motive and matter shaped and in working order. When we worship, He releases His creative power. Hearts change. Lives change. New horizons beckon.

When you paused a moment in midst of worship, as preaching and praise flooded the sanctuary of creation, you may have sensed the motion around you. Did you sense that motion also within you? God working. Creating. Shaping awareness of His presence and of His nature. Shaping the "thoughts and intents of hearts." Shaping tomorrow's behavior, thus tomorrow's relationships, and tomorrow's skyline. Even re-routing the path of history.

Still creating.

Still to the backdrop of praise. "While the morning stars sing together and the angels shout for joy." They beckon us to dance with God on the rim of mystery and sense the motion of the Creator's delight.
Title: ""
Author: Lynn Anderson
Publication Date: April 4, 2001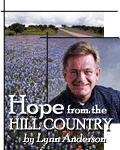 More articles like
this are in the
ARTICLE ARCHIVE

_.html" onmouseover="window.status='View a simpler page format that works well with printers.'; return true" onmouseout="window.status=''; return true" title="Printer-friendly Version">

Print this Article

_.html" target="note" onmouseover="window.status='Send this article to a friend.'; return true" onmouseout="window.status=''; return true" onclick="OpenNoteWindow('');" title="Send this article to a friend.">

Send it to a Friend



Discuss