---
/_.jpg" width=115 height=62 alt="" border=0 align=left hspace=5>
by Terry Taylor

---
INTRODUCTION: When it comes to studying the Bible, a lot of people are finding that the Internet is a great place for information. In this article we look at Internet resources for Bible Study. In "Digging Deeper" we examine the problems of studying the Bible on the Web. Our free Image Of The Month is a map of Old Testament Israel.
Bible Study on the Internet
Many Christians have purchased Bible study software to use on their computers. Computerized Bible resources have lots of advantages when it comes to searching and studying the Bible text. Did you know that there are a lot of Bible Study materials available for free on the Internet?
You can view a Bible passage in 8 English versions and 10 languages at the Bible Gateway. The whole Bible is available on-line for the user to peruse. This is only one of many sites on the Internet that you can go to read and search the Bible. One of the oldest and most popular free sites for Bible Study is Blue Letter Bible. This site has 7 versions of the Bible along with over 25 more books and study materials all tied to the Bible verse that you want to study. Simply go to their main page at and select the Bible passage that you want. Once the selected passage is displayed, you can easily access a variety of commentaries, dictionaries and other material concerning this verse. Also included are maps, artwork and even some audio files that you can hear with the proper software. If you operate a website then you can incorporate links to them that allow people to see Bible verses and reference material pulled from their site and displayed on your own page.
An even more powerful Bible study site is on Crosswalk. This site has more reference material and more features than Blue Letter Bible. If you use this site then make sure that you go to the "My Preferences" page where you can customize the way that you want to set up your study materials. This is a great site!
Heartlight has started it's own Bible study resource site called Studylight. Studylight includes some 15 versions of the Bible along with 7 commentaries, 4 Bible dictionaries and several other resource books. All are linked together to give you a powerful, searchableonline Bible study tool. New tools are being added each week, and the Heartlight team plans many more features. This is definitely a site to watch!
These are not the only Internet sites for Bible Study. There are even sites that contain large virtual libraries. One of the most famous is the Christian Classics Ethereal Library. On this site you can access over 300 different books. The books are all public domain and come in a variety of formats. In this site alone, anyone who has a computer and an Internet connect has a whole religious library at their fingertips.
Here are some sites of Bible reference materials that you may find valuable:
STUDYLIGHT (by Heartlight) - http://www.searchgodsword.org/
Heartlight's new online Bible study resources site. One of the most powerful study sites on the Internet.

BIBLE GATEWAY - http://bible.gospelcom.net/
A great Bible study site.

BLUE LETTER BIBLE - http://www.blueletterbible.org/
One of the oldest and most popular sites.

CROSSWALK'S BIBLE STUDY TOOLS - http://bible.crosswalk.com
Even more powerful than Blue Letter Bible and with more features. This site allows you to customize your Bible study with setup preferences.

CHRISTIAN'S CLASSICS ETHEREAL LIBRARY - http://www.ccel.org/
A great online resource of over 300 books.

RESOURCE PAGES FOR BIBLICAL STUDIES - http://www.hivolda.no/asf/kkf/rel-stud.html
Links to hundreds of web pages of scholarly works and many languages.

CHRISTIAN ANSWERS - http://www.christiananswers.net/
A site for finding answers to general questions - especially in defense of Christianity. Many languages represented. Lots of material, some you will agree with, some maybe not!

THE CHRISTIAN CENTER - ONLINE BIBLES
A webpage that lists where to find 17 English Bibles and over 20 Bibles in other languages on the Internet. Ranks and scores pages for usefulness.

CHRISTIANS UNITE ONLINE BIBLE STUDY AIDS - http://www.christiansunite.com/resources/
Seven Bibles and over 20 other works.

INSTITUTE FOR CHRISTIAN LEADERSHIP - LITERATURE GUIDE - http://www.iclnet.org/pub/resources/christian-books.html
A list of where to find dozens of browseable or downloadable Christian books and Bibles on the Internet.

EMPORIA CHURCH OF CHRIST STUDY RESOURCE LINKS - http://www.stas.net/cofc/links.htm
A unique list of study material and other resources.

RESTORATION MOVEMENT LITERATURE - http://www.mun.ca/rels/restmov
Restoration movement reference materials such as from Thomas Campbell, J.W. McGarvey, etc. The works of over 350 authors are available on this site.
The list above is presented to you as references to online libraries of material. As such, it is important to know that these sites represent a wide variety of religious beliefs. Although there is a lot of good material on every site you certainly won't agree with all that is there. As a matter of fact, since many sites offer the work of so many authors, a lot of material on the same sites will give conflicting viewpoints. The best advice is to be discerning in what you read and to approach your Bible study in a prayerful, truth seeking attitude. God will certainly fulfill a sincere person's desire to learn the truth. Most of all - study the Bible itself! The Bible comes from God. It's claim is found in 2 Timothy 3:16 - 17:
"All Scripture is God-breathed and is useful for teaching, rebuking, correcting and training in righteousness, so that the man of God may be thoroughly equipped for every good work." - NIV
DIGGING DEEPER — Thoughts for advanced users.
The reference links listed in the article are a small sampling of what is available on the web. Our choices increase dramatically every day. The web is growing at an incredible rate. In 1993 there were 130 Internet sites. In December of 1997 there were an estimated 650,000 sites. Now there are millions of sites and billions of web pages. InfoWorld magazine ( http://www.infoworld.com ) reported that in December of 1999 there were an estimated 850 MILLION web pages and three months later there were 1 BILLION pages. The number doubled to over 2 Billion in July of 2000. It is estimated that there are over 7 million unique pages added each DAY to the web.
The value of the Internet is also it's liability. There is so much information that one of the main problems is finding what you want. The statistics above simply indicate that this problem is multiplying. We are immersed in a sea of information and in danger of drowning!
The overload of information can be quite daunting. One of the results of information overload is that when people see so many conflicting ideas that many simply "give up" on trying to find out what the truth is. In our modern age, this gives rise to relativistic thinking and a feeling that there is no such thing as "truth".
The Internet provides for an inexpensive way to present information. In the past, information was often filtered through a cultural or economic "strainer" before getting wide dissemination. Many irrational or unsupported ideas were not presented to people on a large scale simply because it took a significant effort to get the message out. In general, if you couldn't get people to support your ideas enough to publish them then you didn't get a very wide audience. Today, anyone with access to an Internet connection can publish a free web page for the whole world to see. If they have $250 then they can email their thoughts to a million people in spam mail. Certainly, the free disbursement of information is a wonderful blessing and I for one wouldn't have it any other way. The point I am trying to make is that the greater QUANTITY of information now available certainly doesn't mean that we are getting better QUALITY information. More and more information gets to electronic print without valuable peer review of any kind.
What the information deluge means to the Christian is that we must be increasingly discerning in the processing of information with which we are presented. Our children will be even more inundated with information. It is important that we teach them how to evaluate and handle the information of our electronic world.
The new medium creates ways to present information as well. In the past, knowledge was largely text based. The Internet creates an improved avenue for graphical and interactive content. Images can convey information differently than words alone. Images can carry emotional context that you don't get with words. In addition to teaching our children how to deal with the information that they get from traditional sources we will need to teach them how to critically interpret new media forms.
Overall, the Internet gives us more and less expensive access to information but it presents new challenges as well. As we become overwhelmed with information, it becomes increasingly important to get people to simply go back to the Bible text and read it for themselves.
Bible study through the Internet is not without it's pitfalls. Research via the Internet tends to be much slower than using your own computer and CD-ROMS. Also, until wireless communication becomes practical on a large scale you can only study online material when connected to the net or if you have downloaded the entire text.
One of the things that you will notice when visiting the sites listed in this article is that most of the information is either very old public domain literature or very recently written material. There is a reason for this. Much of the popular work done in the last 75 years is still copyrighted. Writings of the 1800's and before are generally no longer copyrighted. Webmasters can often legally post such public domain material to their site. Some modern material is being released by authors for public use - some of it specifically designed for the Internet. A lot of literature of the last 75 years however, is copyrighted and the authors or their families are still receiving income from the publishing of their work. As a result, a lot of the scholarly work of the last century cannot be found on the Web. Book and Bible software publishers guard their ownership to their material. This is their right. Certainly we should support authors and publishers who produce books for a living. What I am pointing out is that one of the pitfalls of the Internet is that there is a great void of some of the important religious literature of the last century. Much of this void can be filled through the purchase of CD-ROMS devoted to this material. As the Internet becomes an even more important medium for the distribution of literature this void will likely be filled but not until modern authors and publishers find more effective ways to be paid for the online versions of their labors.
Despite these limitations, the Internet is a great place to get information. It is hard to believe that the Internet as most of us know it is only a few years old. There are tremendous resources already available for our use. The coming years will most likely simply increase our choices. The fact of the matter is that the biggest problem of the future probably won't be whether or not the material we want is on the web - the problem will be finding what we need in the incredibly vast selection.
---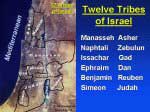 FREE IMAGE OF THE MONTH: 12tribes.jpg (71KB) -- This is a thumbnail image of a map of the 12 Tribes of Israel as described in the Old Testament. The map is based on a NASA space image. Click on the image to view and copy the full-sized 71 KB version. For more free images, visit www.ebibleteacher.com

---