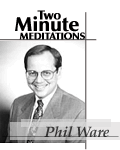 To Do
- Email to a Friend
- Discuss
- Printer Version

"I'm not sure I'll meet the criteria on the Day of Judgment."
"I'm just not sure I'll measure up when I face God."
"I'm not sure I've done enough to get in."

OUCH! Those words of doubt and despair really hurt. I hope they're not your words.

Many of the world's religions make acceptance by its god the responsibility of the worshipper. If he or she works hard enough, is dedicated enough, does enough good works, then maybe that person can achieve his or her reward. If, however, that person doesn't do enough good works, too bad! They'll have to try it all over again on a return trip through mortality or have to settle for something short of the ultimate reward. Goodness is something to be achieved, earned, and accomplished by had work, dedication, and personal sacrifice. So get with it and hope your god likes what it sees.

At first glance, and to many popular observers of Christianity, the Christian faith isn't a lot different. This, however, is not the case at all.

Jesus tells us we can be born again, this time into God's family (John 3:3-7) . Once we're born of God, we are God's children and a glorious future awaits us (cf. 1 John 3:1-3). We're part of the Father's eternal family, adopted at the cost of Jesus' death on the Cross. We're not striving to get accepted by God; we're already accepted because of the price Jesus paid! We're not working to be righteous; God declares us righteous by the atoning work of his Son on the Cross and by the power of his incredible resurrection (2 Corinthians 5:17, 21; Romans 4:25) . Our lives are motivated by the joy of being God's children and our desire to reflect his character and grace.

"Is there really that big a difference between the two concepts? It sounds so much the same, what does it really matter?" Yes! The difference is everything. It matters eternally. It is the difference between a suffocating and depressing driven faith, or a liberating and exhilarating empowered faith. Don't trust me, read Paul's letter to the Galatians!

We cannot be "good enough" to deserve heaven.

Doing good deeds to be accepted by God is to turn our backs on grace and try to gain our own salvation based on our own merits, works, and efforts Galatians 5:4. Reaching, struggling, and striving for something that we will never accomplish is debilitating; we cannot be "good enough" to deserve heaven. Each of us will fall short of God's glory; none of us will be declared righteous if God is our standard (Romans 3). Bottom line: If we don't measure up to him, then we don't get in! If we have to reach that standard by our good works, then life is a journey of the damned and religion is divine mockery of our human failure.

On the other hand, Christians know that God has made them full heirs of heaven by his grace Romans 8:14-17) . Their passion is to be like their Father through the power of the Holy Spirit. They know that they have been accepted by God and made holy by the work of Jesus. They know they will never completely measure up to the perfection of their Father on their own. But, because they know they are already part of God's family and that he has given them eternal life (cf. 1 John 5:13), theirs is a journey of joy. They can rejoice in the outcome of their faith as well as the progress God is making in them 1 Peter 1:8-9). They know that God is at work in them through his Spirit to make them more like Christ (cf. 2 Corinthians 3:18) . Their motivation is a heart of thanks because of the tremendous gift of salvation that God has given them. Their desire is to reflect God's glory and his grace those around them. Their joy is to see others born into the Kingdom of God.

I hope your heart's desire is to be the kind of person that God wants you to be. But please, open your eyes. If you are a child of God, a disciple of Jesus, God wants you to live with passionate and holy joy at being ransomed, redeemed, and saved by his grace. He doesn't want you worried whether or not you're going to get in, meet the criteria, or you've done enough to earn your way in. God asks you to be faithful to who he has made you and to be honest before him about your imperfections, trusting in Jesus to save and perfect you.

Jesus has paid the ransom price to redeem us. Let's live like we're redeemed, not like we're afraid of where we stand!