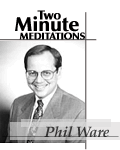 To Do
- Email to a Friend
- Discuss
- Printer Version

Jesus answered, "I am the way and the truth and the life. No one comes to the Father except through me." (John 14:6)
I wish I had thought up the title myself, but I didn't. "God-shaped Hole" comes from the song by the same title, written by Wayne Kilpatrick and Tiffany Arbuckle. Tiffany Arbuckle and Plumb perform it on the album Candy Coated Waterdrops(order or learn more). The chorus goes like this (hear it on 28k modem or 56k modem or higher):
There's a God-shaped hole in all of us
And the restless soul is searching
There's a God-shaped hole in all of is
And it's a void only He can fill.

The vacuous and empty place of the soul that plagues so many people we see today, is actually a God-shaped hole — a void, an emptiness, that only God can fill. So many folks try to fill it with false saviors — drugs and alcohol, work and accomplishment, status and prestige, power and influence, even religion. But, there is only one source of relief for this empty pit. God!
When Paul addressed the wise debaters in Athens, he told them:
"The God who made the world and everything in it is the Lord of heaven and earth and ... gives all men life and breath and everything else. From one man he made every nation of men, that they should inhabit the whole earth; and he determined the times set for them and the exact places where they should live. God did this so that men would seek him and perhaps reach out for him and find him, though he is not far from each one of us. 'For in him we live and move and have our being.' As some of your own poets have said, 'We are his offspring.'" (Acts 17:24-28).
He made us with a soul that is restless, until it rests in him.

In other words, God made us with an emptiness (it's a hole that God shaped) that only our Eternal Father can fill (it's shaped in a way that only God can fit and finish). You see, the Creator wanted us to go in search of him and find him. He made us with an ache whose only salve is himself. He made us with a soul that is restless, until it rests in him.

The Good News, however, goes far beyond our need and hunger to find God. God came in search of us. He sent Jesus, his Son, God in human flesh, to come to earth and bring us back to our Father. He wanted us to find the way home. He wanted to fill our emptiness. Just as surely as the Magi from the East looked into the sky and saw a strange bright star that alerted and guided them to the King of Kings, God sent his Son to guide us home to himself.

There's a God-shaped hole in all of us, but thankfully, Jesus gives us the way to fill up what is empty and complete what is lacking. More than the sound of Christmas carols and the exchanging of gifts, don't let Christmas end without finding the One Gift that fills the hole and brings you home to God.
For this reason I kneel before the Father, from whom his whole family in heaven and on earth derives its name. I pray that out of his glorious riches he may strengthen you with power through his Spirit in your inner being, so that Christ may dwell in your hearts through faith. And I pray that you, being rooted and established in love, may have power, together with all the saints, to grasp how wide and long and high and deep is the love of Christ, and to know this love that surpasses knowledge that you may be filled to the measure of all the fullness of God. (Ephesians 3:14-19)