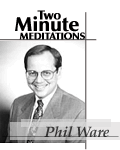 To Do
- Email to a Friend
- Discuss
- Printer Version

"We're going to have a baby!"

No words change a person's life quite like these. The reality behind the message is far more revolutionary than the speaker can imagine. It's as if the couple sharing this news is ushered into a new dimension which they could only see through theoretical anticipation, but now they will greet with (sometimes bleary) wide-eyed wonder.

I wish I could have been there when the angels were given the word that Heaven's Child would be born. "We're going to have a baby!" God had let them know. None of the of the heavenly hosts could see what lay ahead as they stood on tiptoe seeking to understand what was even beyond them (cf. 1 Peter 1:10-12).

I wish I could have been there when Gabriel announced to Mary, "You're going to have a baby!" (Luke 1:26-38) Yes, this was definitely much more than the normal announcement of pregnancy — it was an announcement of wonder, amazement, and awe. This simple and faithful young woman would be the host to God's plan of reconciliation, grace, mercy, and love. She would be challenged to bear the burden of suspicion and heartbreak of hearing her child called "Son of Mary" referring to this miraculous conception which happened before she had married (Mark 6:3). As Simeon would later help her know, she would not only carry the Christ Child, she would live with a sword upon her heart as well (Luke 2:25-35).

I wish I could have been there...

I wish I could have been there as Joseph's friend to help him through the unimaginable news when Mary told him, "We're going to have a baby!" How could he understand? How would he handle the news? How could he explain to his family... his friends... his own heart? Despite the impossibility of the angel's announcement to him, Joseph not only did the honorable thing, he did the faithful thing (Matthew 1:18-25).

I wish I could have been there when Elizabeth greeted Mary and said, "We're going to have a baby!" Yes, she and Zechariah defied the odds of age as God reached across the barrenness of her shattered dreams to bring joy and fulfillment to a thousand hopes and promises — not just for an old couple who had long given up on them, but to a nation whose hopes and dreams hung by an unraveling gossamer thread (Luke 1:23-25, 39-45, 56-80).

Of course I couldn't be there for any of those birth announcements of the King of Kings. Like you, I can only greet them from afar, filled with wonder and awe at the love God would have to construct such a plan made up of the impossible partnership bewteen heaven's grace and simple human faith. But if you will listen with me, we can hear the news afresh, filled with the same wonder and awe. "We're going to have a baby!" And in hearing, not only will our world be changed, but the dreary corners of our lives will be touched with glory and the wonder of our hearts will be overwhelmed with a tender awe. "We're going to have a baby!" When we hear this news and open our hearts to this wonder, nothing will ever be the same. And the announcement first made to the angels, to those who stood on tiptoe to hear, becomes our announcement as well, "Peace on earth... glory to God in the highest... unto us a child is born!"