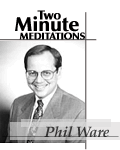 To Do
- Email to a Friend
- Discuss
- Printer Version

I thank my God every time I remember you. In all my prayers for all of you, I always pray with joy... being confident of this, that he who began a good work in you will carry it on to completion until the day of Christ Jesus. (Philippians 1:3-4, 6)

"Hindsight is 20/20!"

Are you sure? I'm not. I still have things in my past that I don't understand. Sometimes I can't figure out why I did what I did. On other things, I'm not sure how I could have done anything differently or why things turned out as badly as they did. But, even if hindsight isn't perfect, it is good, occasionally, to take a momentary glace back over our shoulder to be reminded of God's presence in our lives. In fact, much of a Scripture is a glance back at common everyday folks in whose lives God worked powerfully. Our goal, of course, is not to study the ancient past, but to learn lessons from their faith and failures, and to be reminded of God's incredible and enduring presence in the lives of his people.

While we may not know where God is leading, we can be sure he is there.

While we may not always know where God is leading, we can be sure he is there. That is not only his promise; it is also the track record of his involvement in the lives of his people through the ages. If we look closely as we glance back, we can probably see his footprints in our lives as well. We don't always know exactly where we're going, but we know he is going with us (Hebrews 13:5-6). A simple glance back can help us see many of the times God has been at work in our lives (Philippians 2:13) and can give us the renewed confidence that he will carry his work out in us all the way to the time of Jesus' coming (Philippians 1:6). Even if we can't see it in ourselves, we can fall back on the great people of the past and see how God worked in theirs. We can be confident in our future, of the victory that God has promised us (Romans 8:28-39), because we have seen God's incredible faithfulness in our own lives and in the lives of his people.

So as the year winds down, look over your shoulder. Take some time each of the next several days, and prayerfully examine the year that is coming to an end. Ask God to help you see how he has been at work in your life. Get with a trusted and spiritual friend, and ask this person to help you as you seek to remember God's work in you this past year. Make these musings, these remembrances, into a small notebook, and then finish the notebook with a prayer of thanks and praise for God's presence in your life.

So often when we go through a bad patch of trouble in our lives, we let Satan make us feel isolated, alone, and worthless. In moments like that, the little notebook will remind you that God has been at work in your life. This simple reminder can help you defeat the deafening lies of Satan when he tries to make you feel that God doesn't care and isn't there.

God is at work in you. He longs to bring that work to a fitting and glorious conclusion when Christ returns. Don't let anyone, or anything, steal from you the joy of being a person in whom the Creator is still at work, making a life of significance and beauty.
For we are God's workmanship, created in Christ Jesus to do good works, which God prepared in advance for us to do. (Ephesians 2:10)