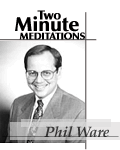 To Do
- Email to a Friend
- Discuss
- Printer Version

I love accents! It makes traveling fun, even an adventure if you can get folks to tell you their story. Today, I'm sitting on a little commuter airplane making a couple of hops on a trip in the heartland of America. Our pilot is from Sweden, the delightful guy next to me is from Adelaide, Australia, the couple behind me is from Germany, and a young woman a few rows closer to the front of the plain is from Japan. The waiter at the airport cafe was from Africa (English was his second language) and the guys one row in front of me are from Mexico (neither of them speaks English). The conversations were a cacophony of foreign sounds, with the drone of the prop engine thrown in for added measure. For me, however, it was the anticipation of a great day that is coming!

I know the Tower of Babel and the wide variety of human languages stand as a reminder of man's arrogance and willful insolence before God. But once the language deal got started, God did his usual redemptive number on it; he turned this problem into a promise. Part of that promise was unfurled at Pentecost, when people from all different languages heard the Gospel in their own native tongue. Wow, what a miracle! The Gospel of grace reversed the curse of Babel through the gift of the Spirit. What's more, Peter told everyone that when they believed in Jesus, turned from their sin and were baptized, God gave them all the same Spirit. This promise wasn't for one race, but for all! In other words, the Gospel was intended to break down barriers that separated people (Acts 2:38-39). Of course that shouldn't surprise us when Jesus' final words challenged us to take the Gospel to all nations (Matthew 28:18-20).

He really did mean that it was to be for all nations!

Now it took those folks awhile to truly catch hold of that idea, and it took a lot of work from the Holy Spirit to help them get it through their well-intentioned but thick skills, but they finally got it! When Jesus gave the great commission, he really did mean that it was to be for all nations! In fact, God's intention with this group that began in Judaism at Pentecost was to form a community of people whose true citizenship is in heaven and who are waiting for their Savior to return from there! (Philippians 3:20-21) When he does return, folks from every language, tribe, language, and people will be a part of the joyous celebration before the throne of God. (Revelation 7:9-10)

I don't know how you view the collision of languages, accents, dialects, and noise in the busy places of world travel. I'd like to suggest, that you join me in doing three things when you hear this confusing noise of the world's people.

First, listen, value, and learn from these conversations so you can genuinely engage the people around you in redemptive friendly talk. Listen to help you reach across the barrier of language to communicate to others.

Second, thank God for a future that completely tears down all walls between people, including language barriers. Think how incredible it will be to visit with folks from all different times, cultures, and languages in heaven, and we will actually be able to understand each other.

Third, be motivated again to see each person, from each culture, speaking each language as someone who needs to be touched with the message of God's grace in Jesus.

If you will do this, then rather than hearing a bunch of foreign sounds in you your ears, you'll be warmed by the anticipation of a great reunion and meet some folks who you can take to that reunion when it occurs.