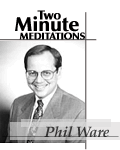 To Do
- Email to a Friend
- Study Questions
- Discuss
- Printer Version

I love the Bible search engines available for most computers. I have them on my Windows machines, I have them on my Macs, I even have them on my PDA's. Every once in a while, I like to just put in a phrase and see what rolls out. Since Thanksgiving in the U.S. is approaching, I thought I would do a thanksgiving search — not about the holiday, but about the attitude, the lifestyle, of thanksgiving. So I checked out the phrase "with thanksgiving" and this is what rolled out:
I will praise God's name in song and glorify him with thanksgiving. Psalm 69:30
Let us come before him with thanksgiving and extol him with music and song. Psalm 95:2
Enter his gates with thanksgiving and his courts with praise; give thanks to him and praise his name. Psalm 100:4
Sing to the LORD with thanksgiving; make music to our God on the harp. Psalm 147:7
Do not be anxious about anything, but in everything, by prayer and petition, with thanksgiving, present your requests to God. Philippians 4:6
They forbid people to marry and order them to abstain from certain foods, which God created to be received with thanksgiving by those who believe and who know the truth. For everything God created is good, and nothing is to be rejected if it is received with thanksgiving... 1 Timothy 4:3-4
As I examined these "random" passages, they taught me several powerful lessons.

...the key to our approach is thanksgiving and praise.

First, when we talk about going into the presence of the Holy, Almighty God, we go with thanksgiving. We don't go with fear, regret, dread, sorrow, anguish, but with thanksgiving. Now don't get me wrong, we approach God with a deep and reverential awe. We also go with the things that are on our hearts, small and large, good and bad. We approach him out of the place we find ourselves in our lives and he meets us there. But, for God, the key to our approach is thanksgiving and praise. No matter where we are in our walk through the world, we know our destination, we know our victory lies ahead around God's corner, and we know that God's grace has triumphed over our doubts and defeats. So when we approach God — whether in prayer, song, or meal — we go with thanksgiving!

Second, thanksgiving before God is not just about things we consider "normal worship," like prayer and song, but it also involves our food. We remember Jesus' example when he broke bread and blessed it (cf. Matthew 15:36). We know the disciples on the road to Emmaus recognized Jesus as they ate together with him (see Luke 24:35). In fact, if you listen closely to Luke's story of Jesus and the Early Church (in Luke and Acts), you can tell his story around the meals that are mentioned. Eating food with thanksgiving along with those that love us and that love Jesus is very much a part of worshipping God (Acts 2:46). Maybe that is why one of the words for the Supper of the Lord is The Thanksgiving (eucharisteow from which the word Eucharist comes — Luke 22:17, 19).

Third, a crucial part of a life that is triumphant over difficult circumstances is the ability to give thanks to God. This thanksgiving, offered even in the middle of difficulty and hardship, helps ransom our situation with the promises and grace of God. As Paul put it, "if God is for us, who can be against us?" (cf. Romans 8:31) Approaching God with thanksgiving in our songs, our prayers, and our meals helps us rise above the mundane and catch a glimpse of the glory our God longs to share with us.

So, whether you're from the U.S. or not, why not take this week and dedicate it to giving thanks. Heaven will be a little closer, the hardships of this world will be a little more bearable, and the Father who waits to bring you home will definitely be near, enjoying it even more than us!