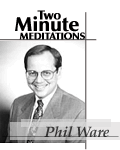 To Do
- Email to a Friend
- Discuss
- Printer Version

What can we do to get our licks in against the evil one?

This question is especially relevant in a world that either views the demonic world as something ... a) trivial — a subject of joking, or a playful excuse for partying; b) nonexistent — merely part of an overactive imagination, wishful thinking, or simplistic faith; c) irresistible — an unconquerable force that can be met only with fear and superstition, or d) legitimately helpful — gods and goddesses that are to be studied, and even courted, for their help and power.

The Bible reminds that we face a real battle against evil spiritual forces: "For our struggle is not against flesh and blood, but against the rulers, against the authorities, against the powers of this dark world and against the spiritual forces of evil in the heavenly realms." (Ephesians 6:12)

Far from trivializing evil and the evil one, the Bible reminds us that we are in a war against such things and such forces. That being true, are there any solid biblical words of wisdom on how we can win some real victories for the side of goodness in the war against the evil one?

Nothing thwarts the desire of evil like opening people's hearts to the love, grace, and forgiveness of God!

Absolutely! Two heavy blows we can deal the devil and his minions involve bringing people to God. First, when someone is lost and has never known Christ as Lord, we can help snatch them from the clutches of evil and help them find salvation in the Kingdom of God(Luke 15; Colossians 1:13-14; cf. Ephesians 2:1-10). Second, when they have wandered away from the Lord and have gotten caught up in sinful rebellion, we can lead them back to God's people and the joy of their salvation (Galatians 6:1; James 5:19-20; Jude 22-23) Nothing thwarts the desire of evil like opening people's hearts to the love, grace, and forgiveness of God! But, let's also look at a few other ways that we can get our licks in against the devil in our everyday discipleship. While not as dramatic as salvation or restoration, they are powerful tools in our heavenly arsenal!
First, we prepare ourselves for battle with the evil one, knowing that he is real and his intent is to hurt, wound, destroy, and lead astray the people of God. This involves putting on the spiritual armor God has given us by recognizing that we are in a real battle, realizing that God has given us the weapons to win that battle, and then making a commitment to stand against the schemes and attacks of the evil one (Ephesians 6:10-18).
Second, when we face the attacks and temptations of the evil one, we resist them, remaining self-controlled and alert, submitting ourselves humbly to the will of God (James 4:7; 1 Peter 5:8-9) .
Third, we meet with other believers for encouragement, motivation, and accountability so that we can remain strong in the Lord and connected with the people of God, not deceived or led astray by evil or by the evil one's schemes (Hebrews 3:12-13; 10:19-25).
Fourth, we don't let our anger fester and embitter us against another person, refusing to let our anger become a foothold for the devil to use against us and we speak truthfully with each other, not using deceit or flattery to manipulate others (Ephesians 4:25-27).
Fifth, we pray for strength and protection from God so that when the time of temptation comes, we take the way of escape we know he is providing for us (Matthew 6:13; 26:41; 1 Corinthians 10:13).
When David went to fight the giant Goliath, he picked up five smooth stones and re-affirmed his faith in God. With nothing more than his slingshot and his faith, David used his tools to face down a threatening enemy and win a great victory for God's people that day. As you start your fight against the evil one, pick up your five smooth stones and re-affirm your faith that God will give you the victory. Don't just limit yourself to the tools victory listed above. Please, search out the Scriptures, and find other specific ways the Lord gives you the power to defeat the evil one. Then share these "smooth stones" with other believers through our Heartlight discussion boards. Let's help each other win the war against the evil one!
Finally, as you go into the battle, remember these promises of victory:
You, dear children, are from God and have overcome them, because the one who is in you is greater than the one who is in the world. (1 John 4:4)

Thanks be to God! He gives us the victory through our Lord Jesus Christ. Therefore, my dear brothers, stand firm. Let nothing move you. Always give yourselves fully to the work of the Lord, because you know that your labor in the Lord is not in vain. (1 Corinthians 15:57-58)