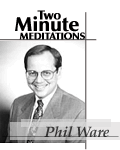 To Do
- Email to a Friend
- Discuss
- Printer Version
Two things occurred after this article was originally written that I believe you will find a blessing. When Laura was interviewed by NBC asked how she kept her composure during such competitive tension, she replied, "I can do all things through Christ who strengthens me." (Philippians 4:13) When she returned to the states, the first place she went was not to appear on the talk shows or go to the media centers for interviews. Instead, she went home to the Woodlands, Texas to say "Thank you" to all the people who had made her gold medal opportunity possible.

Note: Forgive my regional bias, but those of us in Austin, Texas sat on the edge of our seat as one of "our" Austin-connection athletes surprised, delighted, and dazzled us.
Laura Wilkinson had broken three bones in her foot during dry land training in March, causing her to miss 7 weeks of vital training before the Olympics. Laura managed to win the U.S. trials and qualified for the final round of dives in the Olympics. She entered the final round of the 10-Meter Platform trailing both the powerful Chinese divers and two very good Canadian divers. Her chances of even winning a medal seemed very slim, but we were hollering at the TV set, rooting her on, when a most surprising thing happened. She nailed her third dive while the divers ahead of her in the standings faltered. Suddenly she found herself in first place, and diving ahead of the other key divers on her last two rotations.
The pressure for the five competitors was crushing, but Laura held form and hit a great fourth dive and kept her lead. Then going into the final dive, she climbed the platform, kicked off her protective shoe from her damaged foot, looked out over the water, and then did something no one would have never imagined under such incredible pressure. She looked down into the crowd, waved, and smiled broadly, before making the most important dive of her career. She was having a blast and sharing it with many of the people who helped get her to this moment. She nailed her final dive and was awarded the gold medal.
Laura's smile and wave, shared under the crushing pressure of the moment and before her victory was assured, captured my heart. The TV cameras had repeatedly cut away to her parents in the stands — her dad videotaping every dive and her mom unable to look because she was too nervous to watch — and her coach at poolside. It was clear that Laura's smile and wave were directed at them, and to the hundreds of others who had helped get her to this moment.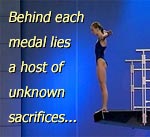 Laura realized what many seem to forget. All the superstar athletes — as well as those who competed but never made the finals or the victory stand — owed their opportunity to a large contingent of people who made the moment possible. Yes, the athlete had to do the hard work of training and competing and holding it together under the pressure, but none of them could have gotten there alone. There were coaches, friends, family, training partners, teams, neighbors, communities, and even nations that supported, encouraged, financed, and provided the facilities for them to train and compete. Behind each medal lies a host of unknown sacrifices and deeply supportive and proud people.
Today, we live in a star addicted culture. We carry this bias with us into our churches. We hold up preachers, authors, and singers as our superstars. When they fall, we're embarrassed and angry, but we go find us another one. In the process, the people that Jesus values most highly, the ones who are greatest in his Kingdom, often get overlooked and undervalued. "The greatest in my Kingdom is the servant of all," Jesus repeatedly said.
So if you are looking for someone to value, by all means thank God for the gifted and well-known public figures of faith. At the same time, please don't forget that they are where they are, and they have the impact they do, because there are hundreds of others who have made a host of sacrifices and have been deeply supportive with their finances, their efforts, their faithfulness, and their prayers.
And if you are one of those whose ministry is public, make sure you know that it is only by God's grace and the support of so many others that you are blessed to be where you are. And please, make sure that you share your smile, your wave, and your thanks for those who have paid the price for your ministry to be effective.
Let's remember that it's often the ones that others didn't see that did the most to provide us the opportunity for the moment and the victory.