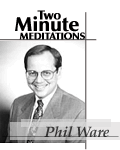 To Do
- Email to a Friend
- Discuss
- Printer Version

It's hurricane season. Don't believe me, just look at the weather reports for the last several weeks. The season will be over very soon, but probably not without another siren or two in the night. You see, after the hot months of summer when the hurricane season starts, the waters in the Gulf of Mexico, Southern Atlantic, and Caribbean Sea warm up. This allows any little low-pressure storm scooting through their waters to have the potential to blow up into a huge raging storm that can do unbelievable damage to lives and property, shattering thousands of dreams and ruining hundreds of homes in the process.
Churches need to know that they face hurricane seasons as well. Often times, it's not the periods of persecution that do churches in. No, more often, it's those periods of white-hot success followed by periods of calm and boredom that breed the hurricanes that do them in! Some little storm gets blown up way out of proportion and before long, huge amounts of damage are done to lives, dreams, and the work of God.
What can we learn about dealing with and even preventing these not so holy hurricanes?
Believe it or not, one of the favorite books in the Bible, Philippians, gives us several key insights. You see Paul loved the folks in Philippi very much. They were a special church to him. He let them support his ministry when he didn't allow most others to do so. They knew him well and he knew them well. This precious group of folks were facing a potential hurricane caused by the disagreement of a couple women (Philippians 4:2-3), some dissatisfaction in the way one of their ministers had tended to Paul and his ministry (Philippians 2:25-20; 4:10-19), and some downright difficult false teachers whose demands and religious pedigree sounded great but whose teaching perverted grace into something very ungracious (Philippians 3:1-3).
So how did the Holy Spirit have Paul help the Philippians through their hurricane? Here are a couple of insights from the book of Philippians, maybe you can come up with some more on your own!
Recognize what a privilege it is to partner with each other in the work of Christ and speak that affection to each other. (1:1-11; 4:10-23)

Is it hurricane season in your church?

Reach beyond your problems and concerns, by getting to work faithfully serving God, carrying out his mission, and shining as his lights in the world. (1:12-30; 2:12-18)
Remember how precious your brothers and sisters in Christ are and serve them rather than trying to be superior to them. (2:1-11; 4:1-3)
Remind each other of good examples and imitate them, especially their recognition that they haven't arrived yet at their goal. (2:19-30; 3:12-21)
Resist the temptation to deny problems by addressing issues head on — kindly and openly, never surrendering the Gospel of grace to legalism. (3:1-21; 4:1-3)
Rejoice in the Lord and his graciousness, and let this joy pervade your whole life and bring you God's peace. (4:4-9)
Renew your hope by talking about Jesus' triumphant future for you. (1:6, 19-21; 3:12-21
Is it hurricane season in your church? Only the Lord knows for sure, but I know that hurricanes will come. Let's just make sure we listen to Paul's teaching and keep them from being so destructive by serving the Lord with passion and serving each other with grace!