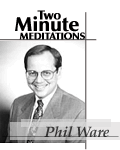 To Do
- Email to a Friend
- Discuss
- Printer Version

I awakened from my dream before I was ready to regain the conscious world. My first several minutes were quite unsettling as I tried to regain my sense of where I was and when I was in my life. Only God knows what had stimulated the vivid dream that had left me overwhelmed with emotion. At first, I was upset, but as the fog of the dream lifted and the blessing of the experience hit home, I began my day with a deep sense of joy and connection to my past that was rich and sweet.

In the dream, I was fishing with my father. I awakened just as I was fighting a big fish on the other end of the line. As I processed the dream, the details and surroundings came back into focus. My dad and I were in an aluminum flat-bottomed boat, fishing on a large stock tank (that's a big farm pond or small lake for those of you not from Texas!). The water was clear, green, and filled with lily pads, moss, and fishing structure. I was 10 years old, and this was my first real bass fishing experience. We were using purple worms, and my dad was teaching me the lift and drag technique so I could pull the worm up out of the moss, and then let it slowly drift back down into the next pocket of moss while keeping just enough pressure on the line to see and feel any little twitch that might reveal an interested bass on the other end of the line.

On my third or fourth cast, I was trying to master the technique when there was an unmistakable twitch and the line danced sideways a few inches. I reared back on the rod about the time my dad said, "You've got one." There was a sudden jolt on the other end of the line and for the next few minutes, I was fighting what felt like a huge fish. This is where my dream ended. But, I knew the rest of the story, because I had lived it thirty-five years earlier.

Finally, I pulled my lunker up into the boat. My dad reached down and picked up the bass by its large lower lip, then carefully removed the hook. He held him up and proudly proclaimed, "This, Phil, is a beautiful black bass. Probably weighs three-and-a-half pounds, maybe a little more. Here, you hold him a sec' and then we'll get him back into the water."

I could barely hold up my prize bass with my skinny little arms. He was beautiful — white and silver, with dark green bands along his side and on top of his back. Then I gently placed him back into the water, held him by his belly a second, and then he slowly swam away down into the dark green moss, leaving me with a pounding heart and an indelible imprint on my memory.

"...they live on — not just in the presence of the Lord, but also in our memories of them."

This week marks the 20th year since my father's untimely death at the age of 51. His last ten years were a trip through the suburbs of hell for my mom and her three sons, as his body was ravaged by severe illness. He passed from this life to the next shortly after living to see three key goals in his life — his youngest son graduate from high school, his middle son graduate from college, and his first grandchild born.

I've said it many times at gravesides in my own ministry, but the dream helped re-awaken me to the reality of this truth: "When we love someone and lose them to death, they live on — not just in the presence of the Lord, but also in our memories of them."

That fishing trip, so vividly replayed in my mind in the dream, happened a long time ago. Yet the richness of the experience and the love of a dad for his son was as fresh to me that morning as it was in the gathering dusk on that east Texas stock tank so long ago.

As parents, we are never quite sure what our kids will remember from their experiences with us. We worry about balancing time and commitments for job, church, and community with our children's need for our attention, guidance, and love. My dream, however, reminded me again that there is nothing more important or more precious than sharing the events in our children's lives that build memories and give lasting gifts. My fishing trip with my father was a 35-year-old gift that has kept on giving. What a blessing!

Thank you, dear Father, for giving me a dad who made a lasting impact on my heart even though his time with me here was short. In the name of Jesus, who assures me that I will be reunited with my dad again, I thank and praise you. Amen.