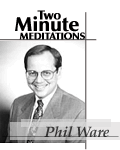 To Do
- Email to a Friend
- Discuss
- Printer Version

"Just going to take me a little break. Yep, everybody needs a little break every now and then. Just a little time away from the grind, then I'll come back refreshed and more committed. Not a big deal, just going to take a little time away from all this church and religion stuff. Going to take me a faith break!"

In many areas of life, a break is a good thing! God gave us an example — one day of rest for every seven-day cycle. Pretty simple plan, not hard to keep up with, and it really is a great blessing.

But, what about taking a "faith break"? You know what I mean — taking a little time away from church, or our daily prayer and Scripture time with God, or maybe slipping off for some questionable entertainment, or piddling around in things that aren't particularly wholesome.

Many people have confided that they've taken a "faith break." They were going through a discouraging time in their marriage, or their prayer life seemed stale, or church was a drag, or they were tired of being depended upon so much, or ... The bottom line, however, is that they took a break in their spiritual life, rationalizing that it wasn't that big a deal. "I'll just do this for a little while." "It'll just be this one time..." "I deserve a break, and I think the Lord would understand!"

The weariness is often legitimate — we've been used up in spiritual service and don't have much left to give. Other times it's just plain ol'tempation, and the tempter knows he can't get to us unless he can get us to lower our defenses. Sometimes, we're just bored with our routine or enamored with something new. So, we take a break from our faith and our faithfulness to God.

It's never a break. It's always a brake!

Guess what? It's never a break. It's always a brake! It's not a pause that refreshes; it's putting our faith in the deep freeze and letting other forces take over and influence us. Listen to the Holy Spirit's words about a faith break: "We must pay more careful attention, therefore, to what we have heard, so that we do not drift away. ... See to it, brothers, that none of you has a sinful, unbelieving heart that turns away from the living God. But encourage one another daily, as long as it is called Today, so that none of you may be hardened by sin's deceitfulness." (Hebrews 3:12-13)

We recognize this principle in almost area of life. When we quit investing in our marriage relationship, it begins to degrade. When we lay off our physical workout plan, our physical fitness goes down hill. When we grow lazy on our dietary habits, our middles swell and our arteries crust up. And when we take a faith break, we're really putting the brake on our faith!

Does this mean we can't ever rest? No, we must rest. God wants us to get proper rest. He wants us to rest to honor him and be with him and not be so caught up in our rushed world. But when we rest, we rest in him and with him, not to escape him!

Does this mean we will come to spiritual ruin? No, not necessarily. We can recapture our spiritual vigor again, but we need to know, we're be starting further behind than when we left off in our service. And, some never return to their interest in the Lord and his life.

You see, there's no such thing as a faith break. It's really a faith brake — we put the momentum of our faith, the passion for our God and the relationship we have with Jesus in the recesses of our life. We depend upon him less. Our ears grow dull to his call. Our hearts lose their tune in his praise. When we break, we find that Satan has used the opportunity to put the brake on our faith.

So, let's commit to balanced lives that include using our gifts, getting proper rest, and learning to say "no" to those things that are not essential. Let's commit to take breaks from the noise of the world, the stresses of work, the anxiety of unfulfilled tasks. But, let's not put a brake on our time with God, our life of faith, or our walk with our spiritual family. We don't want to drift, waver, or wander when grace is so close at hand and God's blessings have been so rich and wondrous.