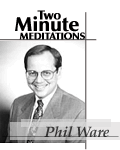 To Do
- Email to a Friend
- Discuss
- Printer Version

Our fascination with angels in modern culture is well documented. Angels are the in item. Look around and you will notice a popular television series, an avalanche of books, a host of television specials, several major news features, and a hot market in home decorations and jewelry all built around angels. Yet when I talk about the angel within, I'm not talking about some kind of metaphysical or mystical union with an unseen angel living inside us. Nor am I referring to the caricature of a good angel on one shoulder trying to convince us to do what is right, while a bad angel sits on the other shoulder trying to convince us to do what is wrong.

The word angel simply means messenger from or for God. From a biblical or religious perspective, the term "angel" is used to identify a heavenly messenger. However, if we look back over our past, we will notice that a number of familiar people have functioned as a messenger from God for us — in other words, they were angels to us! Whether this person was a Christian friend who just "happened" to call the moment we needed encouragement, or a mentor who challenged us to grow, or someone who cared enough for us to share with us the story of Jesus, most of us have had these kinds of "angels" bless our lives. We need to realize that God calls on each of us to fill this role.

God calls on each of us to fill this role.

Each one of us is blessed to be in a certain cluster of relationships. Our neighborhood, our church family, the teams for whom our children compete, the schools we attend, the jobs we hold, and the families into which we were born are all part of this incredible and unique cluster. This cluster of relationships is where the angel within us is called to serve. We are God's messenger of grace, mercy, encouragement, hope, promise, correction, motivation, comfort, and good news. In fact, I believe that most of us would make a far greater impact on the world for Christ if we spent more time taking seriously the "angel within us" than we did worrying about the angels around us!

Does this sound too "pie in the sky" or too smaltzy and idealistic? Listen to a few things the New Testament says to us about being God's messengers, his angels, to those around us!
"We proclaim him, admonishing and teaching everyone with all wisdom, so that we may present everyone perfect in Christ. To this end I labor, struggling with all his energy, which so powerfully works in me." (Colossians 1:28-29)

"Be wise in the way you act toward outsiders; make the most of every opportunity. Let your conversation be always full of grace, seasoned with salt, so that you may know how to answer everyone." (Colossians 4:5-6)

"You are a chosen people, a royal priesthood, a holy nation, a people belonging to God, that you may declare the praises of him who called you out of darkness into his wonderful light." (1 Peter 2:9)

"In your hearts set apart Christ as Lord. Always be prepared to give an answer to everyone who asks you to give the reason for the hope that you have. But do this with gentleness and respect..." (1 Peter 3:15)

"Saul was also trying to destroy the church, going from house to house, dragging out men and women and putting them in jail. And wherever they were scattered, they told people the Good News." (Acts 8:3-4)
Our journey through life is unique. The people with whom we share that journey are equally unique. Our Heavenly Father has placed us in this cluster of relationships and family so that we can make an impact on it with his love and grace. So let's take seriously these connections God has given us. Let's open our hearts and set the angel within us free to share the grace, mercy, and good news of Jesus. Let's be God's messengers, his angels, among the people with whom we share life. Let's recognize we need to set free the angel within and let the world be touched by God!