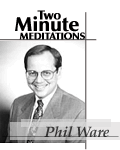 To Do
- Email to a Friend
- Discuss
- Printer Version

I'm sitting here in the recliner waiting for it to turn midnight. No, I'm not waiting for teenagers to come home! I'm not anticipating a late night phone call. No, I'm not worried about some horrible event going on. And, no, I don't have a case of the preacher's version of Saturday Night Fever. I'm waiting for midnight so I can start watering my yard.
You see, Texas is in a horrible drought. Conditions are worse in many places than they were during the dust bowl years. That means water rationing. We have two days per week we can water and even on our two watering days, we can only water from midnight to 10:00 a.m. and 8:00 p.m. until midnight. Sprinklers are discouraged because they waste so much water to evaporation, so I just open the hose and move it every couple of hours, letting the ground totally saturate.
(Special Update: Since this was written several weeks ago, we've moved to Stage 3 water rationing where only hand held hoses are legal and you can water only every fifth day!)
My yard goes from a sickly yellow on the non-watering days, to dark green and growing wildly after one day of saturated watering. It's amazing. Depending on when you see my yard, it either looks sick or lush.

We don't like dry times in our lives, either.

Most of us don't like yellow grass. We think it's a sign that the grass is sickly. But if the truth be known, southern grasses need some yellow time. This time when they need water stimulates the roots to reach down deep in the soil for traces of moisture well below the surface. It also helps make sure these grasses are hardy enough to withstand the rigors of freezes and diseases that are prevalent in between the wet periods of the Fall and Spring. You see, yellow grass times are essential for a healthy yard!

We don't like dry times in our lives — not in our personal lives, our married lives, or our spiritual lives, either. But, as I've grown older, I've come to realize that these dry times are natural, and in many cases necessary. They force us to re-examine our values and look closely at what we believe. They drive us to look for nourishment that runs deeper than just the surface pap that we often lazily settle for because we have trouble with spiritual discipline and simple obedient living. These times check our commitment to do the right thing even when we don't feel like. But amazingly, when we emerge from these times, our relationships are richer, our faith is stronger, and our lives are more vital.

Sometimes we just have to learn to hang in there expecting something better even when the game of life is predictably boring and the cycle of watering and drying out feels endless. Brutal summers eventually end and the cool breezes of autumn slip in and bring the rains that make the yards lush and wondrous. Spiritually dry periods can do the same. So don't give up just because it's hot, dry, and monotonously cyclical. Hang in there, because autumn is coming!