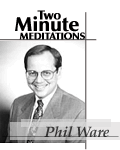 To Do
- Email to a Friend
- Discuss
- Printer Version

We just got back from vacation. It was nice. It was restful. It was a blessing. But, "boy hidee," it sure involved a lot of work on both ends of it to make it happen.

I don't know about you, but sometimes I have to really watch my attitude about vacations. There seems to be so much to do right before we get off. I'm exhausted before we even load the first piece of luggage into the ol' minivan!

When we return from vacation, the load is even heavier. Dirty clothes have to be sorted and washed, luggage has to be put away, the vacation toys have to be put up, the minivan has to be serviced, the mail has to be checked, the bills have to be paid, the finances have to be put in order, calls have to be returned, the lawn needs to be mowed, etc. etc. etc...

I need the rest, the relaxation, and the recreation.

If I'm not careful, I can begin to wonder why in the world we even do vacations because they require so much work! Why not stay home, go to the lake one evening, and go to a movie the other, and count it a success? In saner moments I know why: I need the rest, the relaxation, and the recreation. I need it, even if it requires a little more work on my part to get there! And now, several days removed from both the vacation's rest and all the work to get there and back, I've found something precious: I'm restored. Something of the joy of life and cool breeze of the Spirit is back! The effort will be forgotten in a few days, because of the restored relationship with my wife, the memories I have with my daughter, and the reconnection I've made with my Father in Heaven!

So here's the bottom line in today's thought. It's not profound. It's not awesome or breathtaking. But it is practical and it is true: Rest is often hard work!
It's easy for some of us to be lazy, but that's not rest. It's easy for some to be busy, and that surely isn't rest. But it is flat hard to rest and let the Lord restore us. We want to fill our lives with stimulation, distraction, and noise.
It's hard to discipline ourselves to rest as a way to honor God, to cease our noisy strivings and worries, and to let those around us rest as well.
It's hard work to let go of pressing things and free our mind to follow God in his example of resting one day each week.
It's hard to find others to help us in our ministries and efforts rather than just trying to do it our self!
It's hard to rest when so many noisy allurements seek to derail our faith and God's desire to restore our souls.
But rest is one thing the Lord wants to share with us so that our lives are not frazzled, disheveled, and without character or purpose. So why not hear Jesus say, "Peace, be still!"? Why not heed the words of the psalmist who speaks for the LORD when he says, "Be still and know that I am God!"? Rest may at times be hard "work," but it is the only "work" that refreshes, rekindles, and restores. So let's rest!