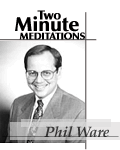 To Do
- Email to a Friend
- Discuss
- Printer Version

"For you know that it was not with perishable things such as silver or gold that you were redeemed from the empty way of life handed down to you from your forefathers, but with the precious blood of Christ, a lamb without blemish or defect." (1 Peter 1:18-19)
We live in an age and a time when parents are the most convenient villains upon whom we can place all the blame for anything wrong, lacking, or deviant in our life. (I am a parent, and to be honest, I'm sure I've provided my kids with a wheelbarrow full of excuses and plenty of reasons to go on one of the afternoon trash-talk shows and share horrifying stories about me, their bizarre parent.)

We all have things that were passed down to us by our parents — and I'm not just talking about their genetic code! Some have tremendous burdens, heartaches, and abuses they have received from parents. But most of us have been raised in "normally dysfunctional" families where our parents loved us, but made their share of mistakes and goobers! Some of these we can remember vividly. We have forgotten many of them, only to have them re-emerge when do them to our own children.

That's why I want you to look closely at that verse from 1 Peter 1 again. Granted, it's not exactly talking about the psychological bumps and bruises that go with being raised in a family full of flawed people. In fact, it is talking about something a whole lot worse — being raised in a long line of families that were perverse in their knowledge of God, his grace, and basic human morality. At its best, this upbringing was vacuous and useless. At its worst, it was emotionally, physically, and sexually damaging, while being intellectually hostile to God as well.

That, however, is the bad news. Don't miss the good news!

In Jesus, a remarkable thing has been given to us. Our freedom from this slavery to the past has been purchased and we have been emancipated. We don't have to live in those old chains any longer. We can actually begin a new life (John 3:3-7), live as a new person (2 Corinthians 5:17), and be renewed in our mind (Romans 12:1-2). We don't have to live the empty life that was handed down to us.

We don't have to live the empty life that was handed down to us.

Paul Faulkner, who writes "Making Life Work for Your Family," has a title for this kind of person. He calls them the "terminal generation" — the one in whom a bad family characteristic, trait, or sin ends. As Christians, Jesus has redeemed us from this old way of life. He has given us his power through the Holy Spirit. He has placed us in a community of others who share our journey and upon whom we can rely. He has promised us that we will eventually be like him, perfected and removed from even the pain of the past. He has done this so we can be the terminal generation!

So I want to encourage you to break the cycle of your "forefathers" if it has been a bad one. (If you have been blessed with a godly heritage, then please, sit down and write a list of specific things from your heritage you want to pass on to your children and grandchildren as spiritual blessings to them!) Be that "terminal man" or that "terminal woman" that has the deadly cycle end with your generation.

Is it possible? Yep! Millions have done it over the years.

Will it be easy? No way! Hell won't turn loose of you that easily.

Will you need help? Yep! But we're all going to need the support of others. Some will need more expert help from a godly, Bible-believing, Christian therapist. But you can do it because Jesus has already done the hard part — he has bought your freedom — freedom from sin, guilt, and death. So why not choose life! Why not choose to leave the baggage behind and move on with the help of friends? Why not break the cycle!