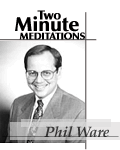 To Do
- Email to a Friend
- Discuss
- Printer Version

"I can do it myself!" we arrogantly assert, trying to internally reassure ourselves at the same time. We've been saying this since we were two years old to anyone who would listen. Deep inside, however, we don't really believe it. As an "adult," we feel we must keep up our facade. Others might discover our secret — we're flawed, sometimes deeply flawed. We fool ourselves into thinking, "If I can just pretend I'm competent, others might think so, too!" So we muddle through, pretending to have our ducks in a row and acting like we know what we're doing. All the while, we demonstrate by our life that we don't.

God has graciously given me the opportunity to write daily devotionals for others. For a short while, I was arrogantly stupid enough to think that I didn't need the help of proofreaders. "I've got a great spell checker. I can run a grammar check on the devotional when it's completed. Why do I need to take the time to run this by others? Why waste their time? Why have to go over their comments? Why make this harder than it has to has to be? I'll just read over again a couple of times before we send it out."

After a few horrible misspellings, several really embarrassing grammar goobers, and a few poorly phrased and offensive sentences, I've repented of my arrogant laziness. I prefer to correct my mistakes before parading them before tens of thousands of others. I would rather do it right than have to ask for forgiveness because of my laziness and pride.

Now, each devotional is filtered through a group of twenty proofers. These proofreaders are precious to me. They have volunteered their time, their talent, and their help to make me better and to bless the lives of thousands of others they don't even know. They don't get credit for it. Nobody knows their names. But, they are a tremendous blessing. In the process, they have reminded me of an old truth found in the Good Book!

People who accept correction are on the pathway to life, but those who ignore it will lead others astray. (Proverbs 10:17)

People who accept correction are on the pathway to life.

My concern, however, is not really about proofreaders for Today's Verse Daily Devotional. My concern is for the way you and I live our lives. Most of us are still that scared two year old screaming, "I can do it myself!" We don't have anyone to whom we're accountable because we are afraid someone will actually find us out. So we muddle through, making our mistakes and succumbing to our temptations. "Easier to get forgiveness than permission!" we announce. Deep inside, out of a life of experience, we know that it is really easier to prevent disaster than to try to clean up after it. So why don't we?

I want to encourage you to get you some proofreaders for your life! I'm blessed with a group of about 22 other guys who get together a couple of times a year. We confess to each other. We pray for each other. We support each other through our crises. We try to help each other catch our goobers, correct our mistakes, and overcome our sins before we get stuck in a rut of repeating them and ruin our influence because of them. I also am in a weekly prayer group that does a similar sort of thing on a more regular basis.

These two groups as essential for me. They keep me on track. They prevent me from slipping into things I should avoid because I know I will have to answer to them for my conduct. They help me see around my blind spots and deal with the "stuff" Satan would like to keep hanging around in my world. Only the Lord knows how many goobers they've prevented, temptations they've help me overcome, nightmares they've comforted me through, and damage they've protected my life from. I'm smarter than a two-year-old. I know that I can't do it all by myself.

What about you? Do you have any proofreaders in your life? Do you have anyone one to whom you're accountable? Do you have a group that help pick you up and put you back on track after you've fallen? If you don't, please, PLEASE, start one! The life you save won't just be your own. Finally, if you would like a little help with starting a group, e-mail me I'll send you some information on how to start a 242 group of your own!
---
And just to remind you that this proofreader for life stuff isn't just my idea, check out the following:
Two people can accomplish more than twice as much as one; they get a better return for their labor. If one person falls, the other can reach out and help... A person standing alone can be attacked and defeated, but two can defend themselves. A cord of three strands if not easily broken. (Ecclesiastes 4:9-12)

As iron sharpens iron, a friend sharpens a friend. (Proverbs 27:17)