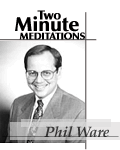 To Do
- Email to a Friend
- Discuss
- Printer Version

The flight ahead was going to be long. I shoveled down a huge heavy breakfast and made my way to long-term parking. Just as I pulled my suitcase out of the trunk, a terrible thunderstorm hit with a vengeance. By the time I made it to the terminal, even my underwear was soaked. I knew then that this was going to be a long day!

As I took my seat on the plane, the voice on the squawk box informed us that the juice and Danish would not be served. Lightning flashed. The rain poured down in buckets. The wind raged. We taxied to our take-off point. Before turning down the runway, the pilot tersely said, "We will be flying through very turbulent weather. The flight attendants will remain seated during the full duration of this flight. Keep your seatbelts fastened at all times. You may listen to channel 9 on your headsets to follow our progress. Thank you."

With those words of "encouragement," we barreled down the runway and began the worst flight experience of my life! The only thing that made the next 50 minutes bearable for all 100 of us white-knuckled and tight-lipped travelers was that headset. We got to listen to the talk behind the scenes.

The pilot constantly communicated with the tower. He spoke with the co-pilot as they steered us around the worst of the storms. His voice was calm, as he expertly did his work even though our aircraft literally bounced all over the skies between Austin and Dallas. We hit sunlight and calm air about the time the pilot announced that we would be landing at DFW in 5 minutes.

Whew! We made it! And were we ever thankful for the reassurance we received from being able to listen behind the scenes over our headset.

I don't know about you, but there are times in life when I wish God would let me listen behind the scenes into his Heavenworld. In the middle of life's storms, it would sure be nice to hear what was being said there about...
...what the angels were doing to serve and preserve me;
...how the Holy Spirit was working to bring me comfort and strength;
...what Jesus was doing to intercede for me at the Father's right hand;
...how our Sovereign God was at work changing things and changing me.
I wish God would let me listen behind the scenes into his Heavenworld.

Yes, I would love to put on some headphones and listen to the reassuring voice of my Savior, and to know what was going on from God's perspective. Sometimes, the silence is maddening. Other times, it is demoralizing. But deep in my heart, I still tenaciously cling to the promise of Romans 8:28.
And we know that in all things God works for the good of those who love him, who have been called according to his purpose.
I also remember an incredible gift that God has given me — the Bible. I can read all sorts of stories about how God intervened and shaped history. I can glimpse how he worked in the lives of his people. I'm reminded that he is doing that in me today. I read about Jesus' promise to be with us through the storm. I know of his miraculous grace that saw past Peter's denials and promised Peter would return from his weakness and strengthen others. Finally, I read the book of Revelation see how the angels and spiritual beings and the Lamb work behind the scenes to accomplish God's will and bring deliverance for God's people in response to their prayers.
I don't know if you have ever thought about it this way, but the Bible, coupled with our prayers, is our headset to heaven! So when the storms rage and the flight is rough, don't forget to put on your headset. It won't make the ride less bumpy, but it will remind you that the Pilot will get us to our ultimate destination. But then, let's not wait till the storm hits; let's put on our headset, today!
You will find all sorts of resources for prayer and Bible study at Heartlight. Check these key pages that link to vital resources on prayer and Bible study! You can find focused reading and prayer plans. For daily devotionals and Scriptures, check out Today's Verse and Daily Wisdom.