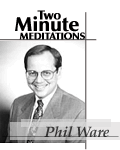 To Do
- Email to a Friend
- Discuss
- Printer Version

The week leading up to Father's Day is always one of mixed emotions. I'm blessed as a father with great children. I'm blessed as a son to have had two great dads. At the same time, I'm still reminded of my father who passed away two months after my first child, and his first grandchild, was born. There are so many things that I wish I could have shared with him.

This week always gets me to thinking about him and all the things he taught me. One of them that we kidded him about was this incredible sense of boldness and confidence. My mom put it this way: "Right or wrong, your dad is always confident." Amen, was this ever true.

One of my brothers was sent to a high priced professional sales training school for two weeks. I called him when he returned, and asked him what he had learned. "Phil, I learned we were taught a whole lot about living life successfully growing up in Al Ware's house."

It was true. Our dad was confident that we were better than we ever imagined we could be. This was sometimes a hard standard to live up to. In the long run, however, it gave us an incredible sense of confidence. We came to truly believe that with God's help there wasn't much we couldn't do. Our motto could have been, "To boldly go where they didn't dream they could go. These are the adventures of the Ware boys."

Clearly, such an approach to life can be overdone, overblown, and take us overboard. But, there is a measure of spiritual truth in this confident approach to life that is so much lacking in the wilted and wimpy Christianity that most of us settle for.

So much is lacking in the wilted and wimpy Christianity that most of us settle for.

One of the great New Testament words for Christian living is parresia. It means to be bold and confident. We see it used for the apostles as they boldly and confidently preach Jesus before hostile audiences (Acts 4:29, 31; 9:28; 14:3; 18:26; 19:8; 28:31). Equally impressive is the sense in which Christians can boldly and confidently go to God expecting him to make available his grace, love, and power (2 Corinthians 3:12; Hebrews 4:16; 10:19, 35; 1 John 3:21; 5:14). Most importantly of all, we can look to the future with confidence, because we know in whose hands the future lies (1 John 2:28; 4:17).

So as Father's Day approaches this year, I'm going to let one of my earthly father's defining qualities remind me of one of the qualities that my Heavenly Father longs to give me — confidence and boldness in my Christian walk. I am going to pray more boldly to a Father who will do "more than I can ask or imagine." (Ephesians 3:20-21) I'm going to be more confident in sharing my faith with others "with gentleness and respect." (1 Peter 3:15) I'm going to anticipate the future because I know that God has given me "the victory through our Lord Jesus Christ." (1 Corinthians 15:57)

Because God has made right all of my wrongs through the atoning death of his Son, I'm going to live with boldness and confidence until the day I get to see him face to and see him as he is!
How great is the love the Father has lavished on us, that we should be called children of God! And that is what we are! The reason the world does not know us is that it did not know him. Dear friends, now we are children of God, and what we will be has not yet been made known. But we know that when he appears, we shall be like him, for we shall see him as he is. 1 John 3:1-2